DOC NYC Film Festival Nov. 6-15 – Critic's Choices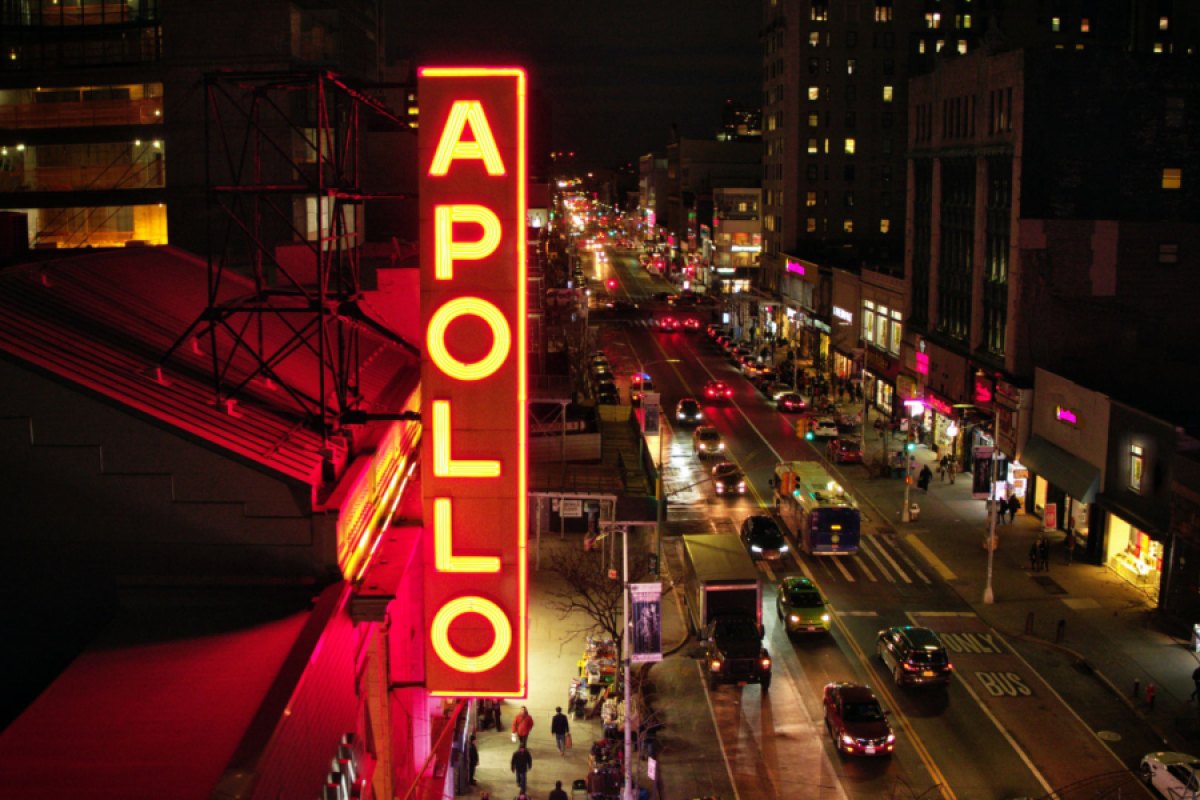 Senior Film Critic Kurt Brokaw selects favorite NYC-based features and shorts from the DOC NYC 2019
Three downtown theaters. 15 screens. 10 days. Three hundred movies and events. Holy moly. It's the 10th anniversary of America's largest documentary festival. Some of the best—The Apollo, Honeycomb and Midnight Family, plus shorts like In the Absence and Learning to Skateboard In A Warzone (If You're A Girl)—have already been this viewer's favorites in previous New York festivals, and are getting encore showings. DOCNYC.net will tell you more that you ever wanted to know. Our lead review is an 'encore review' celebrating one of the best, followed by four more new ways to celebrate the New York we'll always love.
The Apollo; Roger Ross Williams; USA, 2019; 102 min. 
Harlem's Apollo Theater and IFC's doc fests have been uptown and downtown New York neighbors for 10 years. It's been a long time coming, but this full-tilt, jam-packed doc captures the Apollo's legendary past, vigorously applauds its lively present, and—perhaps most urgently—hints at a relevant future bursting with new voices and expanded venues. All in less than two hours. Like Barry Jenkins' rendering of James Baldwin's If Beale Street Could Talk, which had its premiere at the Apollo, Roger Ross Williams' Apollo salute had its first showing on the big screen right above its historic stage, earlier this year.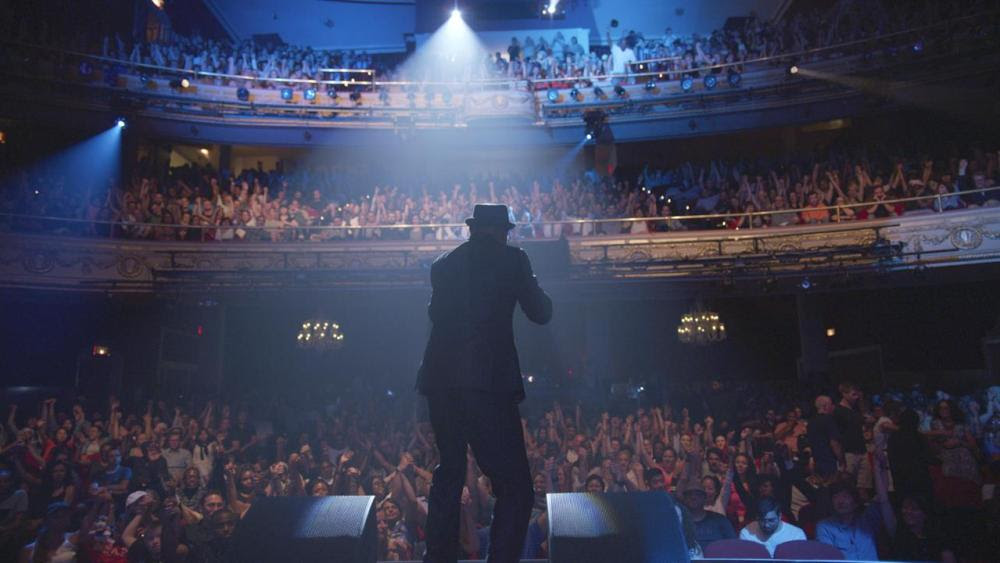 The Past. Williams has already won one Oscar. He's an appreciator and an enthusiast, working his way forward from 1934, piling layer on layer of rich archival performances. Let's see, there's young, promising vocalists like Ella Fitzgerald and Billie Holiday, comics like Moms Mabley and 'Pigmeat' Markham, dancers like Honi Coles and the Nicholas Brothers, orchestra leaders like Duke Ellington and Lionel Hampton, Amateur Night contestants like Lauryn Hill and James Brown, plus glimpses of commentary by community and national leaders like Charles Rangel, Percy Sutton (who bought and renovated the Apollo), Adam Clayton Powell, Malcolm X, Rev. Al Sharpton and Rev. Jesse Jackson, and President Barack Obama.
Williams has the passion of a completist (this doc had six years of editorial research and whip-smart assembly), and he's anxious not to forget any Apollo name of importance, so he keeps returning to roots, integrating more and more legendary entertainment clips into—The Past and The Present. Amateur Night is America's longest-running talent show on any stage. It's an acute, no-nonsense demonstration of how Harlem audiences possess the sharpest elbows, the fastest thumbs-down, and the biggest welcoming hearts of any New York audience in the city, maybe in the world. While everyday contestants aren't auditioning to do seven shows a day like their elders routinely endured, 'Be Good or Be Gone' is still the M.O., and there's a 'resident executioner' whose job is sweeping bad talent off the stage. (Showtime at the Apollo was a 21-year television series, produced by Sutton, with 1,093 episodes.)
Director Williams has engaged the Apollo's keenest and most knowledgeable observers of this never ending phenomenon: Apollo CEO Jonelle Procope, executive producer Kamilah Forbes, journalist and educator Herb Boyd, Apollo host and guide (for over a half century) Billy Mitchell, professor and musicologist Guthrie Ramsey, plus original owner Frank Schiffman's financial ledgers and terse comments on his booking cards. All these pros provide invaluable insights into the place "where stars and born and legends are made." This is the history on which is built—The Future. Toni Morrison has written that "I've been wondering who might fill the intellectual void that plagued me after James Baldwin had died. Clearly it is Ta-Nehisi Coates." The voice and vision we're drawn to most memorably throughout The Apollo documentary is neither an entertainer, an entrepreneur, nor an administrator. It belongs to author/journalist Coates, seen in rehearsal scenes as well as last year's staged performance of his Between the World and Me. Written as a letter to his 15-year-old son, Coates takes his title from Richard Wright's poem of the same name, published in a 1935 magazine, and won the National Book Award in 2015. It's a portrait of the intimidation, fear and violence that's forever been wielded against Black people.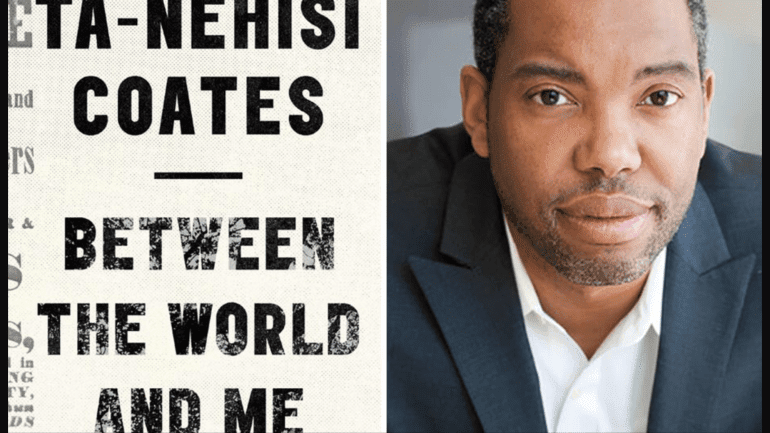 Coates, who's 44, grew up in Baltimore, the son of a Vietnam veteran and former Black Panther. He graduated from Howard University and has been a national correspondent for The Atlantic magazine. He also appears prominently in the feature length doc on the Wu Tang Clan, Of Mics and Men, giving excellent perspective on how Wu Tang Clan members have transcended poverty and invisibility growing up in the projects of Staten Island and Brooklyn.
From Coates' onscreen prominence, it's possible to conjecture that Williams sees Coates as the vital bridge between the Apollo's past, present and future. That the author's staged work might one day be joined with the writings of Toni Morrison as well as so many neglected and marginalized Black writers besides Richard Wright—James Baldwin, Ann Petry, Chester Himes, Zora Neale Hurston, Langston Hughes, Iceberg Slim, and Clarence Cooper. That when the historical Victoria theater almost next door to The Apollo is restored and redeveloped next year, this new Apollo Performing Arts Center will include 25,000 square feet enclosing two performance spaces with 99 and 199 seats. Either or both might be a performing space traditionally known in theater as a black box. The Apollo's dream future is woven into The Apollo. 
The Apollo shows Wed. Nov. 13 at 6:30pm and Thu. Nov. 14 at 1:40pm at Cinepolis Chelsea. 
A Few Days With Jill Freedman; Pete Shanel; USA, 2019; 7 min.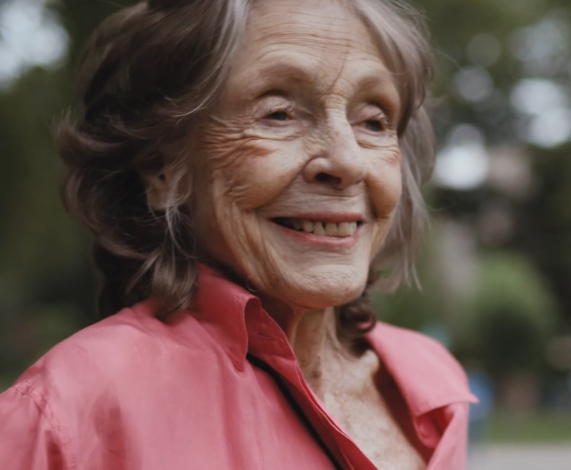 The female New York street photographer is under appreciated. Rare documentaries like Finding Vivian Maier, Masters of Photography and Cheryl Dunn's Everybody Street salute major artisans like Diane Arbus, Mary Ellen Mark and Jill Freedman, but miss others like Berenice Abbott and Helen Levitt.
Pete Shanel is a forever fan of Freedman, whose stark portraits of New Yorkers are in permanent museum collections worldwide. She authored seven books including Firehouse (on NYC firefighters) and Resurrection City (on the Poor People's March). In these twilight visits with Shanel, shot in Central Park and her home on Morningside Drive, she's writing and musing book thoughts in her notebooks.
"There's no such thing as a lucky picture," she declares. "I'm on the balls of my feet, like a hunter. I want to be invisible. I'm an easy-goin', independent woman with a classy chassy, who loves a good story, true or not. I was completely obsessed, totally in love with photography."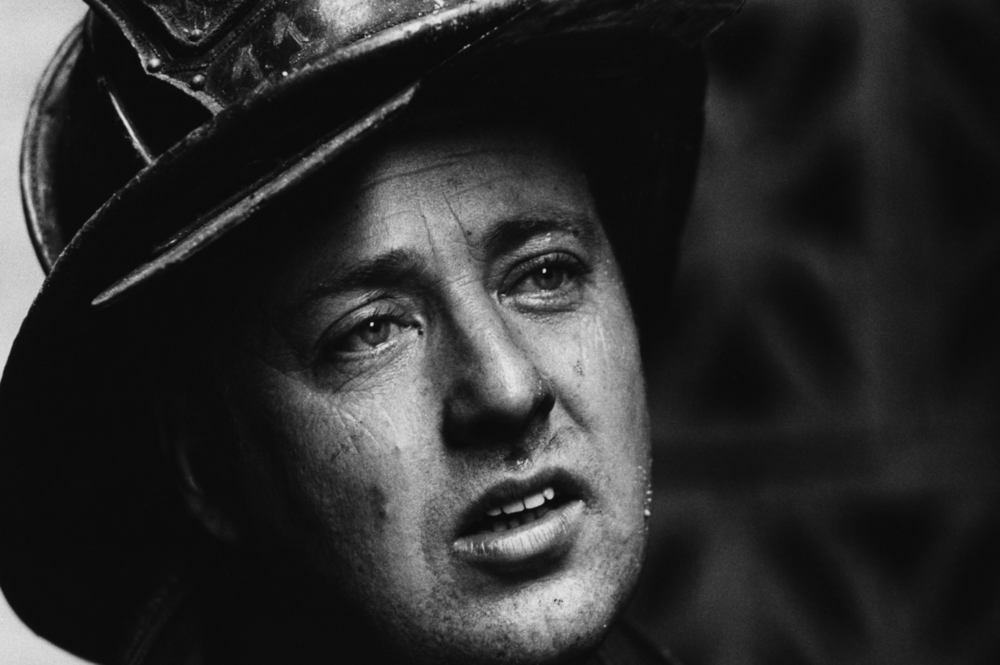 You recognize Jill at once as a crusty, die-hard New Yorker through and through, a photojournalist who cherished anonymity and spent long nights at the Lion's Head bar, "never finding my true love." Her laments are familiar: "New York was neighborhoods, that's what made it New York. A great egg cream. Roseland was one of the best things, a real ballroom with two bands, you could meet people, be a dancin' fool. Now It's all real estate, there's no more Greenwich Village, it's all been priced out. You may listen for 'the lullaby of old Broadway', but you won't hear it."
Shanel intercuts a splendid walkthrough of some of her best work, "You feel like you've had luck?" asks the director. "Sure," Jill replies. "You've heard of me." Jill Freedman passed away at 79 last month.
A Few Days with Jill Freedman shows with other 'NYC: Speak To Me' shorts Sat. Nov. 9 at 9:30pm at Cinépolis Chelsea.
Lydia Lunch: The War Is Never Over; Beth B; USA, 2019; 75 min.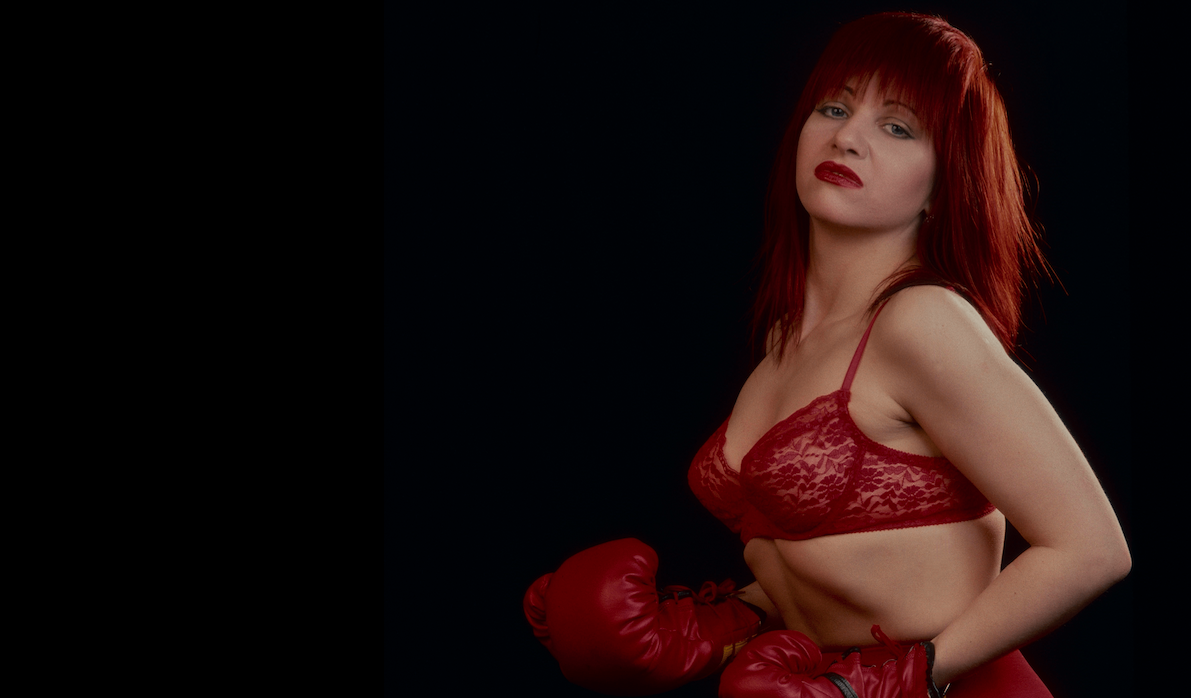 In the mesmerizing concert footage from the Sydney Opera House that closes Nick Cave's 20,000 Days on Earth (a 2014 critic's choice from the New Directors/New Films fest), we watch Cave work an audience with a stalking savagery that's almost primeval. He's rail-thin in a black suit, backed by Warren Ellis and his Bad Seeds contingent, plus a string section and even a children's chorus. Cave prowls the stage, full of fever dream and sexual swagger—a more tightly wound and rigidly controlled blend of Iggy Pop and Jon Spencer, both of whom he physically resembles. Then, at the lip of the stage, he bends down and reaches out to touch the fingers, then the foreheads of several adoring female fans oozing sweat, who nearly melt before his eyes.
Beth B's snarly, smack-you-up-the-head portrait of Lydia Lunch reverses the outreach scenario in its final minutes, shot in a dusky club that's vibrating with high-volume tension. This time it's a female rock goddess, Ms. Lunch, leaning down from the stage, inches away from a slim, tatted, mustached 30-something dude in low-slung hiphuggers who's staring at Lydia so hard, you suspect he's thinking about leaving the woman beside him— maybe not forever but at least for one night. Lydia's baiting and teasing this hunk as he grrrs and meows and blows a few kisses at her, but then Lydia focuses on the woman beside him, talk/singing a suggestion that she get rid of this "half-assed, pot smoking, beer swilling, video game playing, porn addicted jerk." The woman smiles, getting Lydia's not-so-subtle message. Ha!
As Bob Bert (Sonic Youth, Retrovirus) tells us, "Lydia's greatest work of art is herself." No argument on that. While Cave and Lunch once were bandmates in the legendary Australian train wreck, The Birthday Party, Nick barely gets a mention here and he's not missed. Lydia was closing in on 60 as she highlights her life on-camera, and, true to her stage, screen and literary roots, she's never less than articulate, emphatic and totally without guile. Donita Sparks (L7) calls her the Queen of the Underground, "yet a misfit within it." Lunch easily narrates a 75-minute course on her punk rock history because she is a course on punk rock history.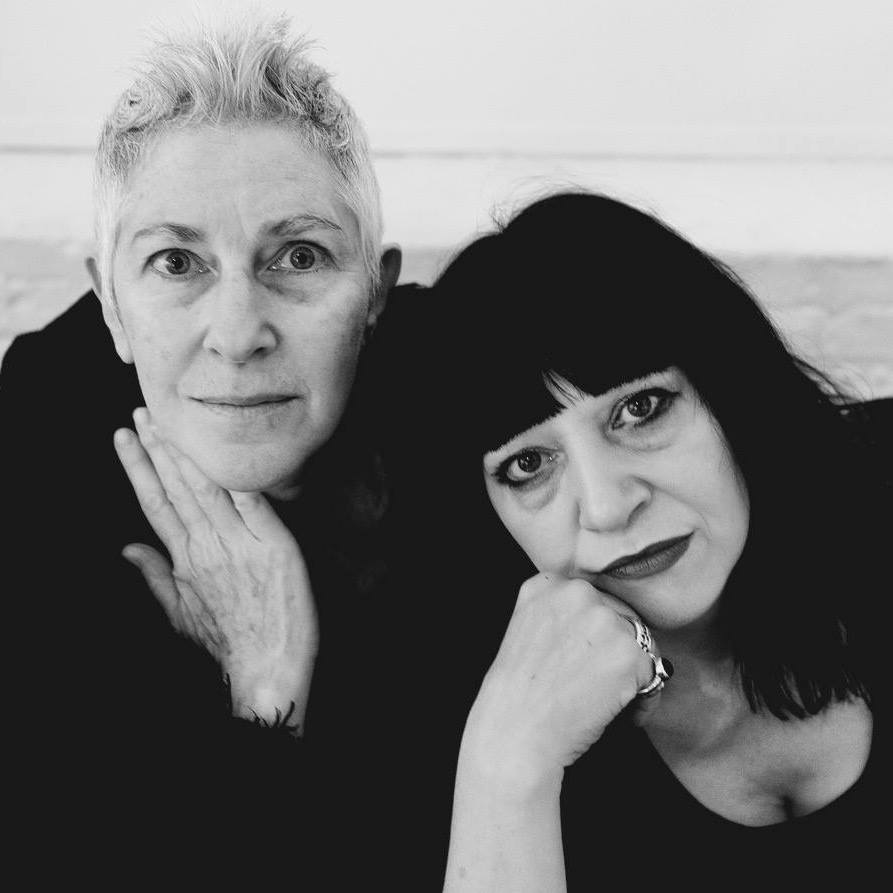 Born in Rochester as Lydia Koch, she was sexually abused by her father, and survived hitching a ride with a guy "who looked like Robert Blake with a cheese-grater complexion," who drove her into a woods, got out, opened his trunk, took out a shotgun and ordered her to start licking his car tires. This explains why Lunch has spent a lifetime railing against bad men, in bad societies, run by bad governments—as the doc title reads, her war is never over.
When she moved to the Lower East Side in 1976 and began shoplifting sandwiches for the Dead Boys who were rehearsing in the old Anderson Theater on Second Avenue, she took the name Lydia Lunch. In her first band, Teenage Jesus and the Jerks, she personally seduced each band member,  deflowering one—Jim Sclavunos—of his virginity. Always a provocateur, occasionally a chanteuse, frequently a nihilist, Lydia Lunch performs unapologetically with the instincts of a predator. "If you can't take this for 20 minutes, try doing it for 20 or 40 years," she spits out.
Albums like Urge to Kill and My Lover the Killer. Films like She Had Her Gun All Ready and The Dominatrix Sleeps Tonight. Collaborations with vitriolic feminist pals like Exene Cervenka (ex-X), Adulterers Anonymous, and Kim Gordon (ex-Sonic Youth), Harry Crews. It's meant as solemn praise to write that any recording artist who names an album after a tent show gothic like Harry Crews has gotta be a breed apart.
Fortunately for audiences, Lunch's life and times are in the amazing hands of director/editor/co-DP Beth B, who brings a disciplined sensibility to all this nightmare chaos. Beth tints and maneuvers a lot of collages in this doc, bi-packing and tri-packing still images and filmic sequences to a cacophony of sound. Much of it is intensely beautiful, and it has a soothing, almost rhapsodic effect. The artistry of this veteran filmmaker, who's bringing her A-game to this one, is on a par with effects specialist Robert Burks, when he was making delirious dream collages for Hitchcock films before he became Hitch's primary cinematographer. Beth is that good? Judge for yourself.
Lydia Lunch: The War is Never Over shows Sat. Nov. 9 at IFC at 7:00pm.
Bam and Rawls Grab A Slice; Horatio Baltz; USA, 2019; 5 min.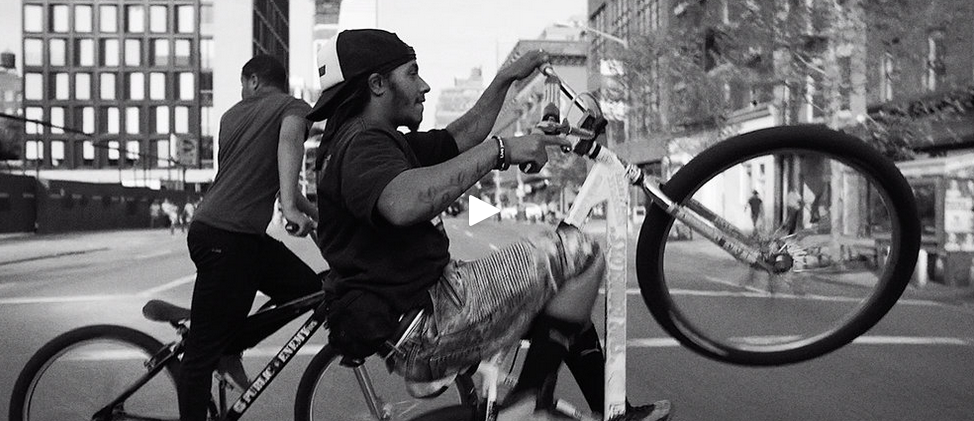 The current New York weekend street sight that stops you in your tracks isn't the amplified break dancers performing outside the Metropolitan museum, nor even the 'showtime dancers' that work the subways at odd hours, spinning on poles and executing deft flips and spins within inches of  riders.
These days it's the bicycle kids. You hear them coming down Broadway on a Saturday or Sunday afternoon, hundreds and hundreds of them, one city block after another. And what you hear is their signal call. That sustained noise—one long note like tires screeching to a halt—is the opening salvo of Horatio Baltz's dynamite look at New York's wheelie gymnastics-on-the-streets.
The signal is an invite to join in. And it's basically open to any bicycle rider, of any age, on any kind of bike, who wants to keep up and maybe show off a little style. (You don't see any tricked-up Citibikes, with the front wheel rearing up in the air, here.) As you might guess, NYPD does not look favorably on rideouts, as group rides of 50 or more are required to have a city permit.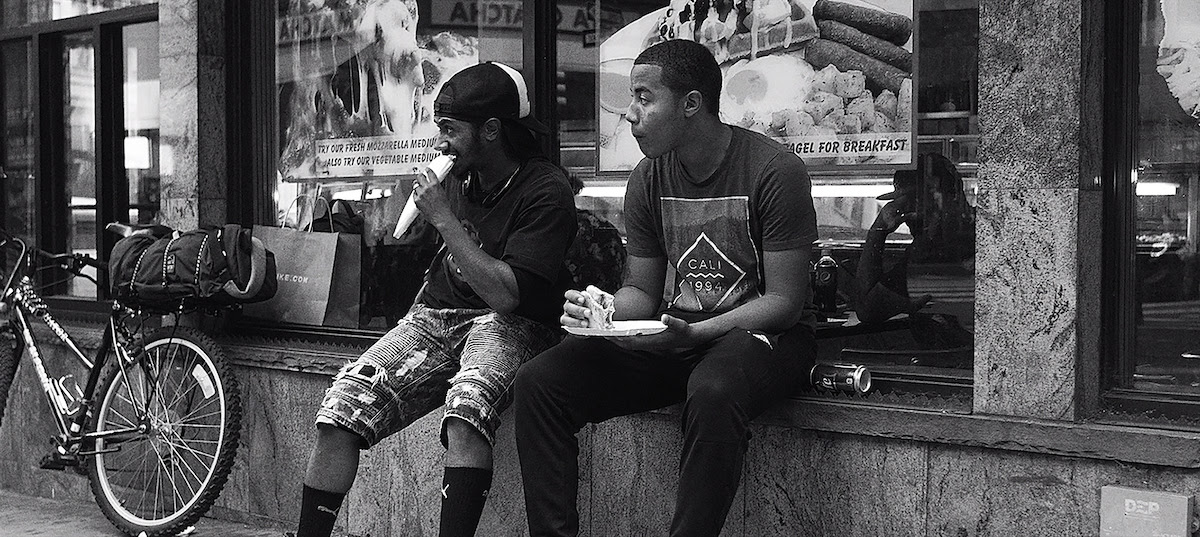 Bam and Rawls are hungry Bike Lifers, and they say the pizza in Far Rockaway is terrible—they've come in over the bridge to grab a better-made slice. The camera loves these guys as much as they clearly love performing. And Baltz has photographed this little slice of cinematic art in black-and-white letterbox, an absolutely inspired choice of format, given all the bikes in the frame.
Well, Bam and Rawls' pizza slices on 55th aren't as great as they'd hoped for, and at four bucks a slice, they decide they should have bicycled over to Broadway. Next time. Credit The Horse-Eyed Men with a precision music track, expertly brushed and combed under every shot.
"Bam and Rawls Grab A Slice" shows along with "A Few Days With Jill Freedman" Sat. Nov. 9 at 9:30pm at Cinepolis Chelsea.
Searching for Mr. Rugoff; Ira Deutchman; USA, 2019; 94 min.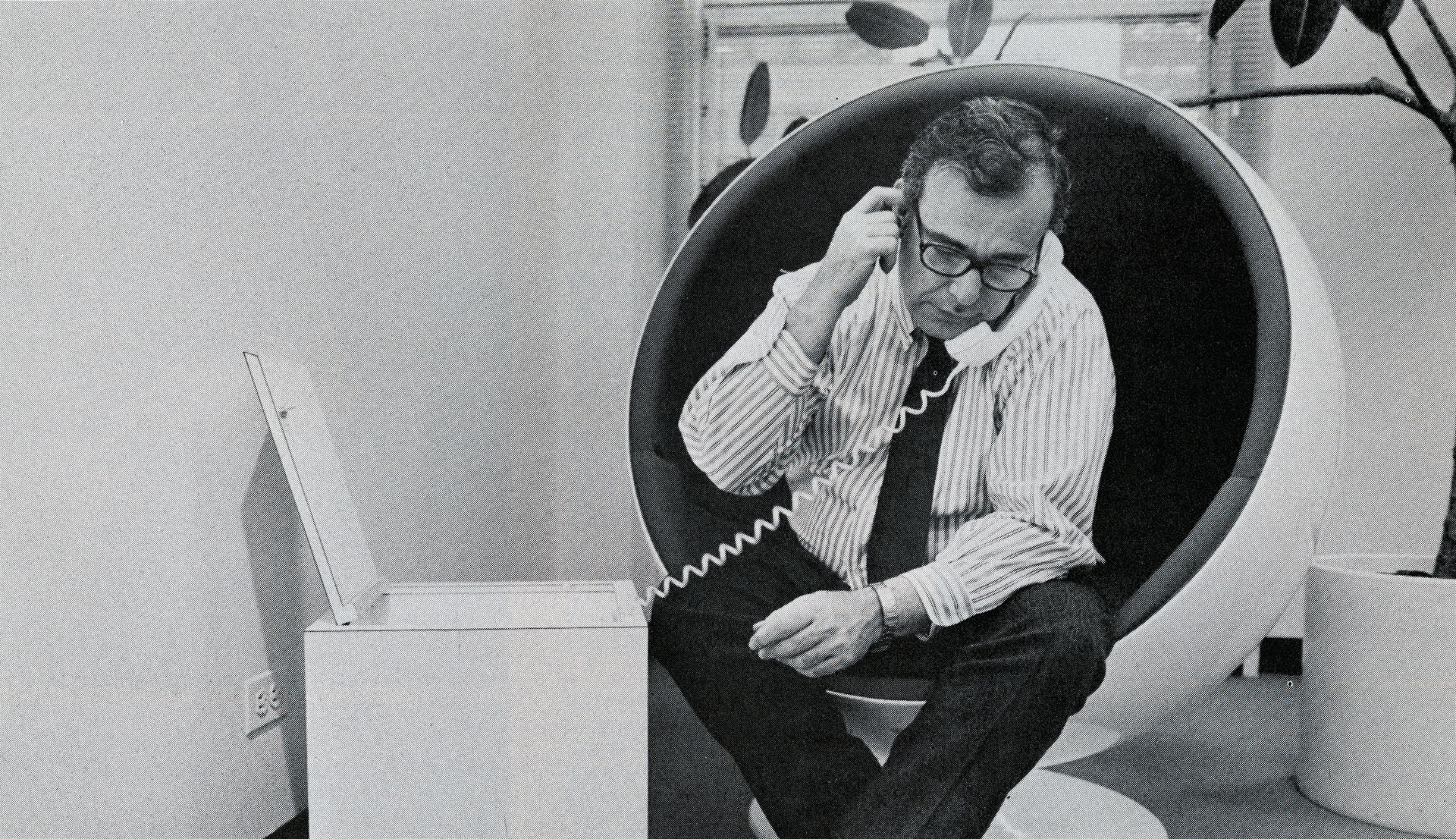 The Apollo theater has been the lodestone and north star of uptown entertainment for decades. Lydia Lunch became a lynchpin in shaping the downtown music scene in the 70s and 80s. But the independent movie landscape on Manhattan's east side in the second half of the 20th century was built in large part by one distributor and theater owner: Don Rugoff of Cinema 5.
Ira Deutchman, an indie producer, distributor, marketer and Columbia University professor, worked for Rugoff for three years. This is his doc on a mercurial,bombastic exhibitor, strategist, publicist and original "Mad Man" of flaming originality. Deutchman frames the filmic exploration as a mystery, casting himself as the amateur detective trying to uncover a long lost screening facility in a remote Martha's Vineyard town. What's that all about?
Searching for Mr. Rugoff is the beating heart of this 10th annual DOC NYC. Every filmmaker lucky enough to have a feature or short showing here—from the very youngest film student and intern to Oscar-winner Barbara Kopple—will want to hunker down in this one, taking notes and viewing what's up on the big screen with appreciation and maybe even awe.
Rugoff's secret was in believing that indie cinema could find a commercial home, and commercial success in New York City, just like mainstream movies. He started by creating superior settings for superior films. Cinema I and Cinema 2, America's first twin theaters, opened in 1962, sharing midtown east with the Plaza, the Sutton and the Beekman. This was the Cinema 5. (Rugoff also managed the downtown Gramercy and the 8th Street Playhouse). Cinemas I and II shared lobby art displays, Manhattan's first three dimensional, diorama-influenced window displays, and more leg room between rows than airlines. Rugoff doubled adult admission prices to $3.00, but passed out free coffee to people in line. Suddenly going out to movies in Manhattan became a cosmopolitan, often avant grade experience—"they were events we had to be at," remembers Annette Insdorf of Columbia University, as does Laurence Kardish, MoMA's former head film curator.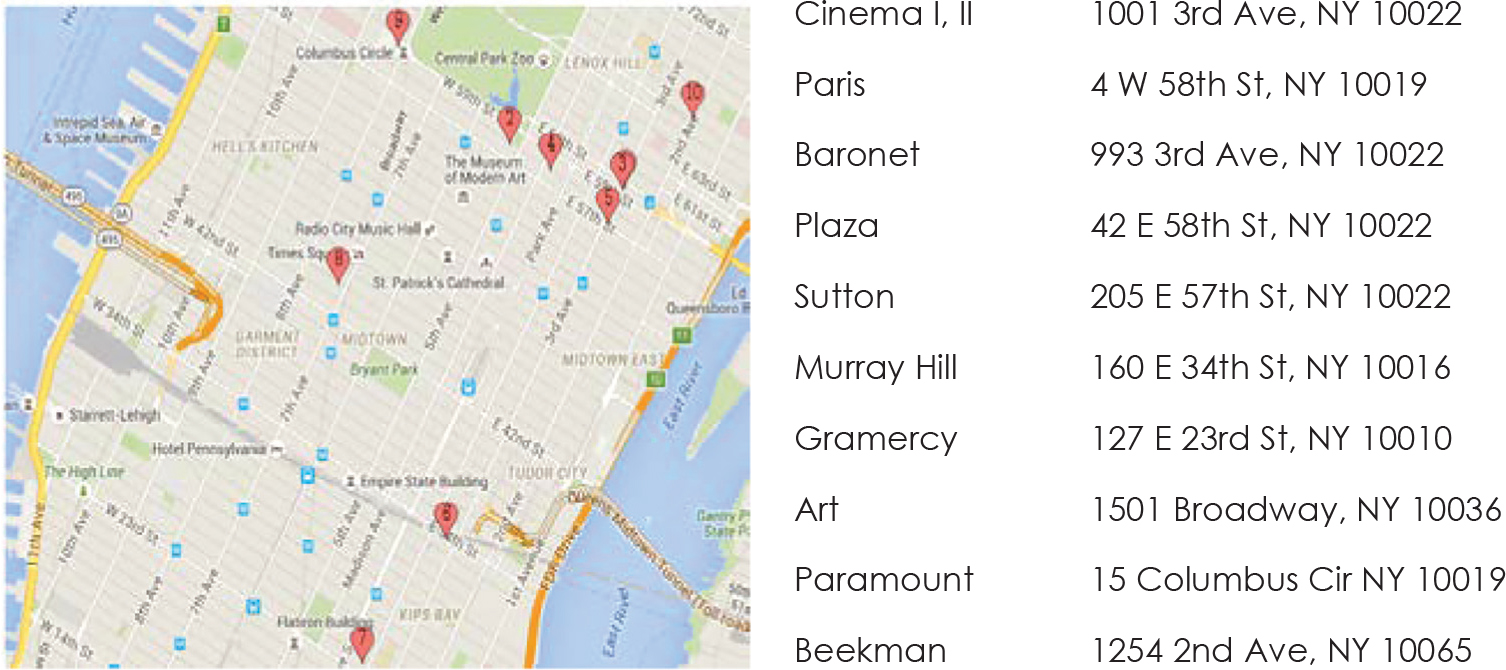 The son of Jewish immigrants, Rugoff grew from an outlier into an unprecedented industry force in the 60s and 70s. He'd inherited an exhibition business from his father (who designed the Beekman), which he then expanded into a distribution outlet for foreign as well as American dramas, which he then micromanaged in their marketing, advertising and publicity. He ran his operations 24/7 but frequently fell asleep watching the movies he'd champion. He demanded absolute attention, night and day, from everyone in his life, from the woman he married, the women he hired into executive positions as head of sales and head of advertising, everyone from the ushers to the projectionists in his theaters. He was known to all as "Mr. Rugoff"—a Barnum-era showman of New York's film industry, a behind-the-scenes creative genius who bought and showed pictures that shaped our sensibilities forever.
Mel Brooks insisted all his movies open at Rugoff's Sutton. Woody Allen wanted his pictures at Rugoff's Beekman. When he challenged her box office numbers which "I had here in my ass," Lina Wertmuller chose Rugoff to distribute Swept Away. ("He had an element of madness in him, that made him a beloved person to me.") Rugoff then acquired Wertmuller's Seven Beauties and invited 1,500 viewers at Alice Tully Hall to join a receiving line after the movie, to shake hands with Lina, her cast and crew. "And over 1,000 did," recalls Wendy Keys, "and some people got back in line twice. They stood there for hours."
Nothing But A Man, Elvira Madigan, The Fireman's Ball, The Garden of the Finzi-Continis, Marjoe, Distant Thunder, Z, State of Siege, Every Man for Himself and God Against All, The Man Who Loved Woman, One Sings The Other Doesn't, Padre Padrone, Putney Swope, Andy Warhol's Trash, Outrageous, The Soft Skin, The Endless Summer, Gimme Shelter, On Any Sunday, The Sorrow and the Pity, Harlan County U.S.A, Pumping Iron, The Man Who Fell to Earth, Scenes From a Marriage all transformed Rugoff theaters and Cinema 5 into powerful brands that became the lineal links between the emerging counterculture and art house cinema. From '65 to '78, Cinema 5 pictures received 25 Oscar nominations and six Oscars.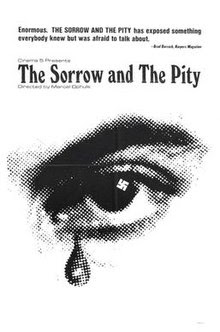 Rugoff tied in body-building classes to Schwarzenegger's on-screen pumping iron. He put staff in medieval costumes and marched them down Fifth Avenue ballyhooing Monty Python. He hired a look alike for the flasher in Robert Downey's Putney Swope to stand in the lobby, giving patrons a peek at his (barely clothed) body under a trenchcoat. With his ad agency Diener, Hauser, & Greenthal, he paid for a lot of white space in his newspaper ads like The Sorrow and the Pity so they'd stand out on the entertainment page. He often read his own copy for radio spots advertising movies at Cinema 5 theaters, just as Joe Papp did for Public Theater productions. This was Rugoff's house style, as impactful as Stephen Frankfurt's title credits for To Kill A Mockingbird or Saul Bass' graphic branding on loads of movies. There are lessons here every filmmaker alive can study and put to good use.
All this didn't last. Mainstream Hollywood began competing with the edgy, arty style of films Rugoff liked. Competitors bought much of Cinema 5's publicly traded stock, and a hostile takeover eventually depleted whatever savings Rugoff hadn't plowed into expensive original art. Near the end he cut his own take-home pay, to no avail. The judge who forced Rugoff out of Cinema 5 wrote  "he ran his company like his own private sandbox." Out of work, Rugoff found himself ghosted by his own industry. Producer/director Deutchman searched out the last years of Rugoff's life and finds them in this moving, prophetic documentary.
The late Dan Talbot, head of New Yorker films and the beloved proprietor of the closed Lincoln Plaza Cinemas, summed up Rugoff's life and contributions, writing that "he was an uncommonly generous soul, without the foggiest notion of the normal uses of money. Don was a stand-in for the guy who stood on street corners throwing away $100 bills. Naturally, directors and producers loved him, thought of him as a wild genius..He was one of the mad ones."
'Searching for Mr. Rugoff' shows Fri. Nov. 8 at 7:00pm at IFC and Tues. Nov. 12 st 12:30pm at Cinepolis Chelsea
 This concludes critic's choices. Watch for Brokaw's picks at The New York Jewish Film Festival,  Jan. 15-28, 2020.
---
---
Regions: New York