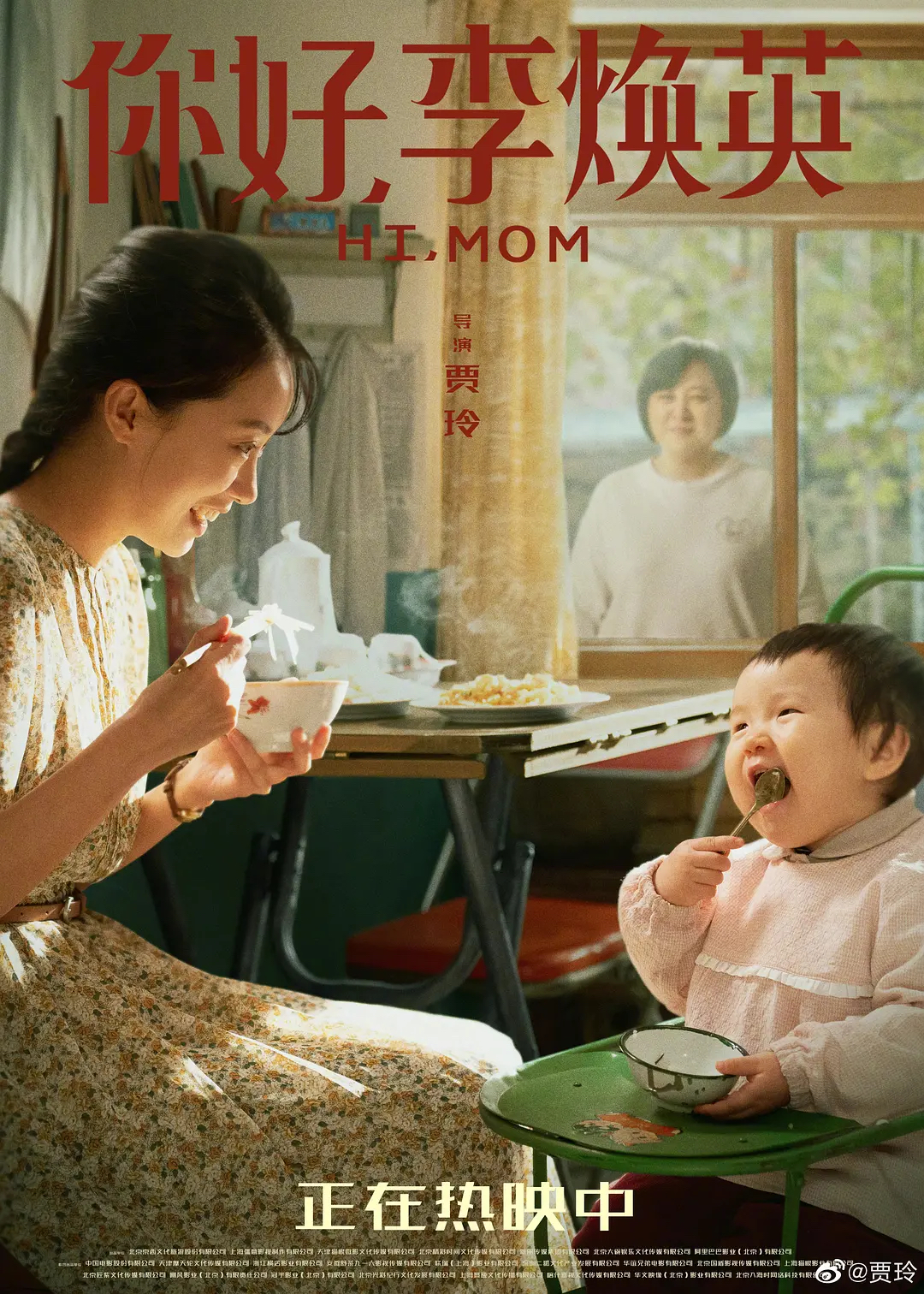 The 2021 Chinese New Year film market opened on February 11 and the total box office reached RMB 78.22 billion, which was almost $12.1 billion dollars in just six days during this holiday season. Breaking the previous year's record, totals increased more than 32%, compared to 2019. Seven domestic films debuted during the holiday season and attr1.6 billion moviegoers.
Many factors contributed to this phenomenon. The market offered a wider range of genre movies to the audience, which included films with high-quality productions, solid content, combined with trending topics and popular film stars. As the COVID-19 pandemic came under better control, many more theaters were opened for the holiday season and helped boost the film market. Governmental policies which encouraged less travel during the holiday, also helped boost attendance. Many younger people attended more showings, having chosen to spend the holiday with their friends rather than traveling back to their hometowns, where movie theaters are in short supply.
Here are some of the movies that debuted during the Chinese New Year.
Hi, Mom (Chinese: 你好,李焕英)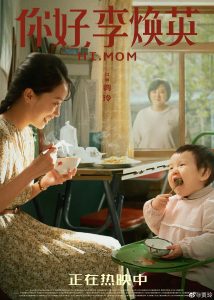 Adapted from her self-created sketch comedy Hi, Li Huanying, this movie is the sleeper hit among the Chinese New Year films. Hi, Mom grossed RMB41 billion ($62 million) over the weekend of Feb. 21, becoming the highest-grossing Chinese film directed by a woman.
The film is a time-travel comedy written and directed by Jia Ling, a Chinese xiangsheng (crosstalk) performer, comedian, and actress. This is her directorial debut and is based on Jia and her mother's real-life stories. Jia's mother passed away when she was 19 years old. In the movie, Jia (cast as herself) goes back in time to 1981 where she meets her young mother, Li Huanying (Zhan Xiaofei), and becomes her best friend. To improve her mother's life, Jia embarks on creating opportunities for her mother to be happy. This includes setting her up with the factory manager's son. Jia's hope is to ensure her mother marries a better husband which will then result in a better daughter and a better life.
Hi, Mom topped favorite film Detective Chinatown 3, in popularity with its critical acclaim and word of mouth reviews.
Jia said in an interview, "If the audiences want to call their mothers after seeing the film, I am satisfied."
Detective Chinatown 3 (Chinese: 唐人街探案3)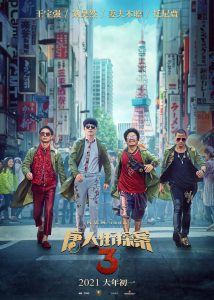 This is the third installment in the Detective Chinatown series, written and directed by Chen Sicheng. The story is set in Tokyo where the two detectives Tang Ren (Baoqiang Wang) and Qin Feng (Haoran Liu) are invited to investigate a major crime. As top detectives from the Crimaster World Detective Ranking list start showing up, the story soon leads to a battle between the strongest detectives in Asia.
The movie set the record of the highest opening day gross ever in a single territory, earning RMB1.05 billion ($163 million) on Feb. 21 alone. Even though the film was cast with many well-known Japanese film stars, including Masami Nagasawa, it received mixed reviews. The Chinese online ticket selling platform, Maoyan, rated it 8.8/10, and Douban, a Chinese IMDB-like media review platform, gave it only 5.6/10.
Fun fact: The film was planned for release during the 2020 Chinese New Year but was postponed due to the COVID-19 pandemic.
A Writer's Odyssey (Chinese: 刺杀小说家)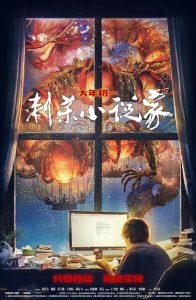 A Writer's Odyssey tells the story of Kongwen Lu (Dong Zijian), an author of a fantasy novel series, following a heroic teenager also named Kongwen who is on a quest to end the tyrannical rule of Lord Redmane under the guidance of Black Armor. Through a strange twist of fate, the novel's fantasy world begins to impact life in the real world, leading Guan Ning (Lei Jiayin), whose daughter was being abducted, to accept a mission from Tu Ling (Yang Mi) to kill the author.
This action-fantasy movie is adapted from a short story of the same name written by Shuang Xuefei and is directed by Chinese movie hitmaker, Yang Lu. The movie made RMB5.4 billion ($83.7 million) and is ranked third among all the releases during the Chinese New Year season. According to the director, the movie took five years to complete, and Chinese companies produced every single frame of special effects.
Boonie Bears: The Wild Life (Chinese: 熊出没·狂野大陆)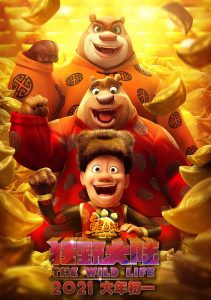 Since 2012, Boonie Bears has been a favorite children's cartoon series in China. This is the seventh year that Fantawild brings this brand to the big screen. This time, the story takes place at a theme park called "Wild Life," where guests can transform themselves into a variety of animals by wearing a gene-altering bracelet. When Vick (Tan Xiao) teams up with Briar (Zhang Wei), Brumble (Zhang Bingjun), and a mysterious person named Leon (Liu Pei), to enter Wild Life's competition, they surprisingly win the grand prize. However, they soon catch Leon trying to secretly copy the owner's park data. Tom and Vick discover that hybrid guests are becoming feral and attacking others.
With the movie's focus on the theme of happiness, director Ding Liang and Shao Heqi hope that Boonie Bears: The Wild Life can get both children and adults to discover the true meaning of happiness. The movie's 2020 opening date was also pushed back due to the pandemic, but it grossed RMB4.05 billion during the week-long holiday season. It received 6.8/10 on Douban.
New Gods: Nezha Reborn (Chinese: 新神榜:哪吒重生)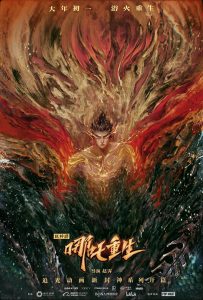 This movie took the legendary god, Nezha, from the Chinese mythological story based on the Ming dynasty novel Investiture of the Gods, to the fictional city of Donghai. Nezha, who fought the sea 3000 years ago, is reincarnated as Li Yunxiang (Yang Tianxiang), a young motorbike rider in Donghai City. Before he has mastered his powers, his old enemies appear and he must settle a 3000-year-old grudge with the Dragon Clan, who commands the sea.
According to the director Zhao Ji, the cyberpunk city of Donghai's design was based on a mixture of 1920s and '30s Manhattan and Republic of China–era, Shanghai. Many Chinese netizens called this "Chinese style cyberpunk" and really enjoy this collision of Eastern and Western aesthetics. The film was produced around the same time as the big 2019 hit Ne Zha, which was based on the same mythological character. New Gods: Nezha Reborn made RMB2.39 billion and scored 7.3/10 on Douban. Netflix has acquired the movie but no release date has been announced.
Endgame (Chinese: 人潮汹涌)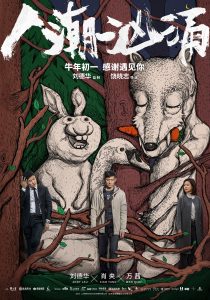 Zhou Quan (Andy Lau,) a world-class hitman, wakes up in a bathhouse believing he's a failed actor. What he doesn't realize is that he accidentally slipped and a down-on-his-luck extra, Chen Xiaomeng (Xiao Yang,) took advantage of his unconscious state and switched their identities. Chen Xiamomeng soon discovers that Quan was an assassin. With the help of single mother, Li Xiang (Wan Qian), Quan begins to piece together his "past life" while also developing a bond with Li. Meanwhile, Chen is performing the assassins' missions. But when the amnesiac assassin regains his real memories, the three heroes are caught up in a twisted reality.
This is a remake of the 2012 Japanese film Key of Life, and casts famous actor Andy Lau as the assassin. The movie had bad distribution in theaters with screening times late at night. Director Rao Xiaozhi spoke up on Sina Weibo, a Chinese twitter-like platform, saying that even though "different reasons caused the bad distribution," he still advocates for theaters to arrange better movie time slots to allow it the opportunity to be seen by a bigger audience.
The movie grossed RMB1.51 billion with a 7.1/10 score on Douban.
The Yinyang Master (Chinese: 侍神令)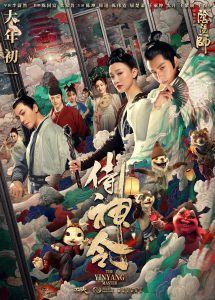 This Chinese fantasy film is adapted from the NetEase game Onmyōji. Qing Ming (Chen Kun) is a half-human, half-demon traveling between two worlds. When the demon king threatens to return, Qing Ming is reunited with Bai Ni (Zhou Xun), with whom he had a pact. The two have a deep connection even though they appear to have many disagreements. Before the final battle begins, Qing finds out that his identity is the key to this disaster.
Even though the movie casts famous actress Zhou Xun and actor Chen Kun, as well as popular actor Chen Weiting, the movie received poor reviews, despite Weiting's big fan base. It received 5.0/10 on Douban and grossed only RMB2.11 billion, ranking it last during the holiday season. Many netizens pointed out that the male lead, Chen Kun had less screen time than the fourth actor ranked on the talent list. They also criticized the direction and the screenwriter's weak storyline.
The director released a post on Sina Weibo, saying that all movies must be examined by the audience, but "their preferences are constantly changing. Aesthetics are fluid." He also stated that since the movie was made four years ago, the film market is different. He later turned off the comment section of the post.