The Female Gaze: To Think, Not To Dream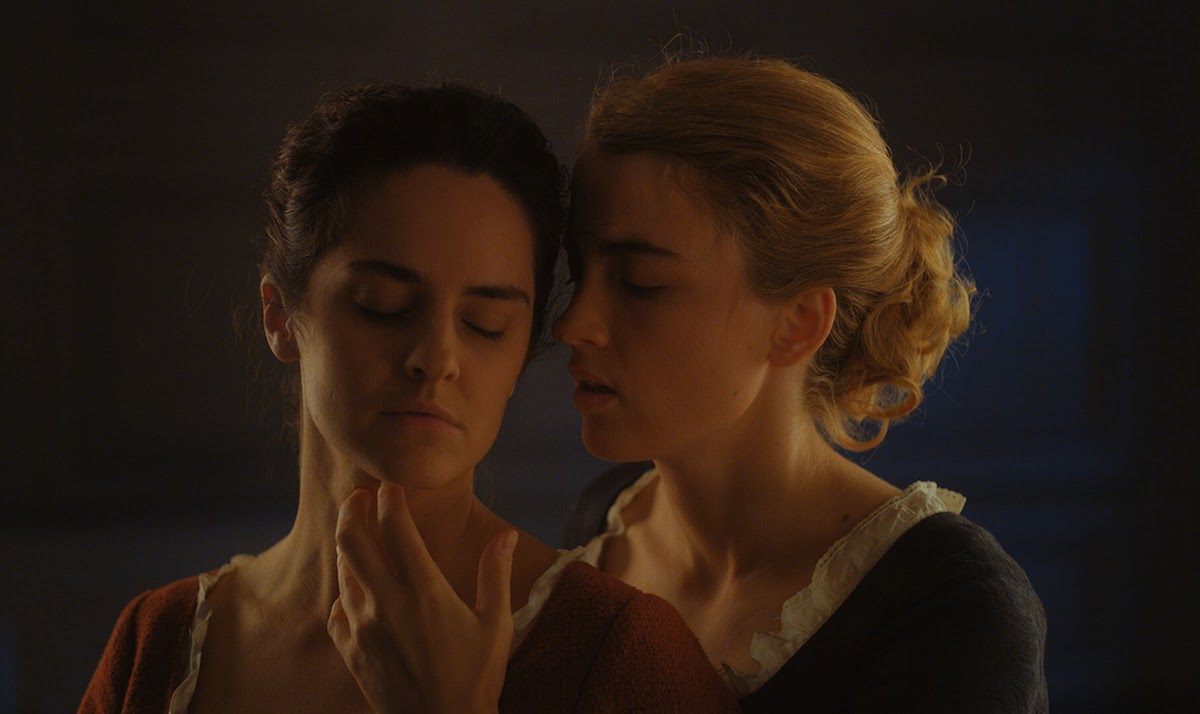 Celine Sciamma's "Portrait of a Lady on Fire" is the Female Gaze at its Most Poignant
Over the past decade, Céline Sciamma's non-conformist films have challenged hetoronormative and patriarchal tropes within the industry. In 2019, Sciamma and her castmates walked out of the César Awards after known pedophile and rapist Roman Polanski was awarded Best Director for the film, J'accuse. As a gay woman herself, Sciamma's films often explore the stories of young LGBT women as they navigate their individualism amongst the influences of a straight male-dominated society. Sciamma's 2019 critically acclaimed period piece, Portrait of a Lady on Fire, was no exception, exploring a love story between two young women in 18th century France through a modern, feminist lens. 
After her older sister kills herself to avoid the same fate, a young, affluent woman, Héloïse (Adèle Haenel), is unwillingly betrothed to a Milanese man at her mother's demand. When she refuses on multiple occasions to have a portrait of herself painted for her suitor, Héloïse's mother hires a young woman, Marianne (Noémie Merlant), to paint her secretly. However, complications arise as the two women begin to develop a deeper connection. Through stylistic choices like the absence of a true soundtrack, Sciamma creates a tangible feeling of realism within the film, allowing no distractions to take our focus away from the two characters in front of us. The slow rhythm of the editing helps further evoke the languid, sensual longing that the two characters feel for one another. Portrait of a Lady on Fire is the perfect example of a screenplay that shows without telling, drawing viewers into their love story, not through cliche monologues professing their undying love, but through small glances where eyes meet, longing looks when the other looks away, and quiet moments of physical and emotional intimacy. Portrait of a Lady on Fire centers on a female love interest, as many films that pander to the male gaze do, but the focus differs from these films in that it never objectifies women. Sciamma portrays her female characters both authentically and respectfully in the use of the film's most powerful writing tool: the female gaze.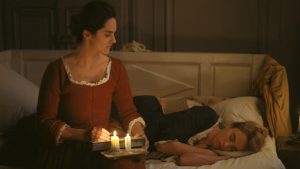 Before defining the female gaze, an understanding of the male gaze is necessary. The male gaze is a common theme in the media to make content with a male audience in mind. It's often in our depictions of women―even in those that center female leads―that this pandering to the male fantasy becomes strikingly apparent and, more importantly, harmful. Ironically, many of the "badass" female characters that Hollywood passes off as feminist icons are written by men for men. How many times have audiences heard a female character attribute her strength to "growing up with brothers?" The male gaze works in a triangle: the person behind a camera, the person in front of the camera, and the audience. When we masculanize our audience, we masculinize the material on screen in turn. The male gaze assumes a male audience as not just the ideal, but the sole sensibility. The female gaze aims to depict women not as a fantasy for men, but as real human beings. In doing so, this gaze not only portrays women realistically, but more importantly, as they'd like to be seen. 
Sciamma has said that she sees the film as a "manifesto of the female gaze," something which she reflects notably in the film's visuals and the writing. The two versions of the portrait that Marianne paints of Héloïse exemplify the clear difference between how society sees women and how women see themselves. In the first version, the essence of Héloïse gets lost amid the traditions that Marianne believes her art must align with. As Marianne says, "there are rules, conventions," for how an artist is expected to paint a woman. But in concentrating on how Héloïse should be painted, she loses sight of what she really looks like. The portrait looks airbrushed, her face too bright, too cartoonish. The first portrait illustrates how a man would paint a woman for the viewing pleasure of another man. The second portrait captures the real Héloïse, the lines of her face, and the emotion in her eyes. More importantly, it captures Héloïse as she'd like to see herself. 
The amalgamation of consent and realism is what makes the female gaze so empowering. Under the male gaze, female characters (as well as the actresses who play those characters) have no choice but to be both simultaneously degraded and put on a pedestal. She possesses no autonomy, simply treated as another prop on set to make a scene more interesting to male viewers. Marianne and Héloïse are both very outspoken―or at least as much as they can be as two gay women in a period piece―which is what makes these two characters more realistic depictions of womanhood. As Héloïse and Marianne caress each other in a moment of intimacy, Marianne asks, "Did you dream of me?" Héloïse replies, "No, I thought of you." This line embodies Sciamma's skillful use of the female gaze.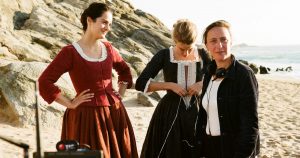 In the famous heterosexual love stories that we're exposed to from a young age, the concept of dreaming of someone is heavily romanticized. However, this romanticization of fantasizing about someone reinforces patriarchal and heteronormative stereotypes surrounding love by encouraging us to yearn for an idealized version of someone rather than the person that they truly are. This criticism isn't to say that it's wrong to dream of the person you love, rather to say that the 'everything I've ever dreamed of and more' cliche is unrealistic and overused. Héloïse doesn't want to remember a fantasy of Marianne, a version of her that only exists in her dreams, she wants to remember the real Marianne, the one who exists outside of her mind. This is not a fairytale love story, but a real one. In a few words, Sciamma challenges what we're taught to believe that it means both to love someone and to be loved by someone, much of which stems from gender politics and power dynamics. That's why the female gaze carries such power. Instead of seeing women as a dream, a fantasy, something to idealize, we see them as they are: three-dimensional people. 
As a gay woman working in a straight, male-dominated industry, Sciamma's success in itself is an achievement and inspiration. The director has spoken before about feeling underrepresented within her field, and her choice to make films about LGBT characters is an active one. "These stories are really dangerous for patriarchy. That's why the male gaze is obsessed with representing lesbians, for instance. It's a way to control it," says Sciamma in an interview with VOX. "That's why it's so important to tell stories. It's to represent us, so a lot of people feel seen." While Sciamma has had a hand in the film industry since 2008, Portrait of a Lady on Fire is her most well-received film to date, winning the Cannes Film Festival's award for best screenplay. Despite this, the film was not recognized at the 2019 Oscars, a snub in many cinephiles' eyes. Nevertheless, Sciamma's complex depictions of femininity and sexuality continue to challenge harmful patriarchal tropes such as the male gaze, a feat that is arguably significantly more important than an award. 
---