Interview: The Past, Present, and Future of the Coolidge Corner Theater with CEO Katherine Tallman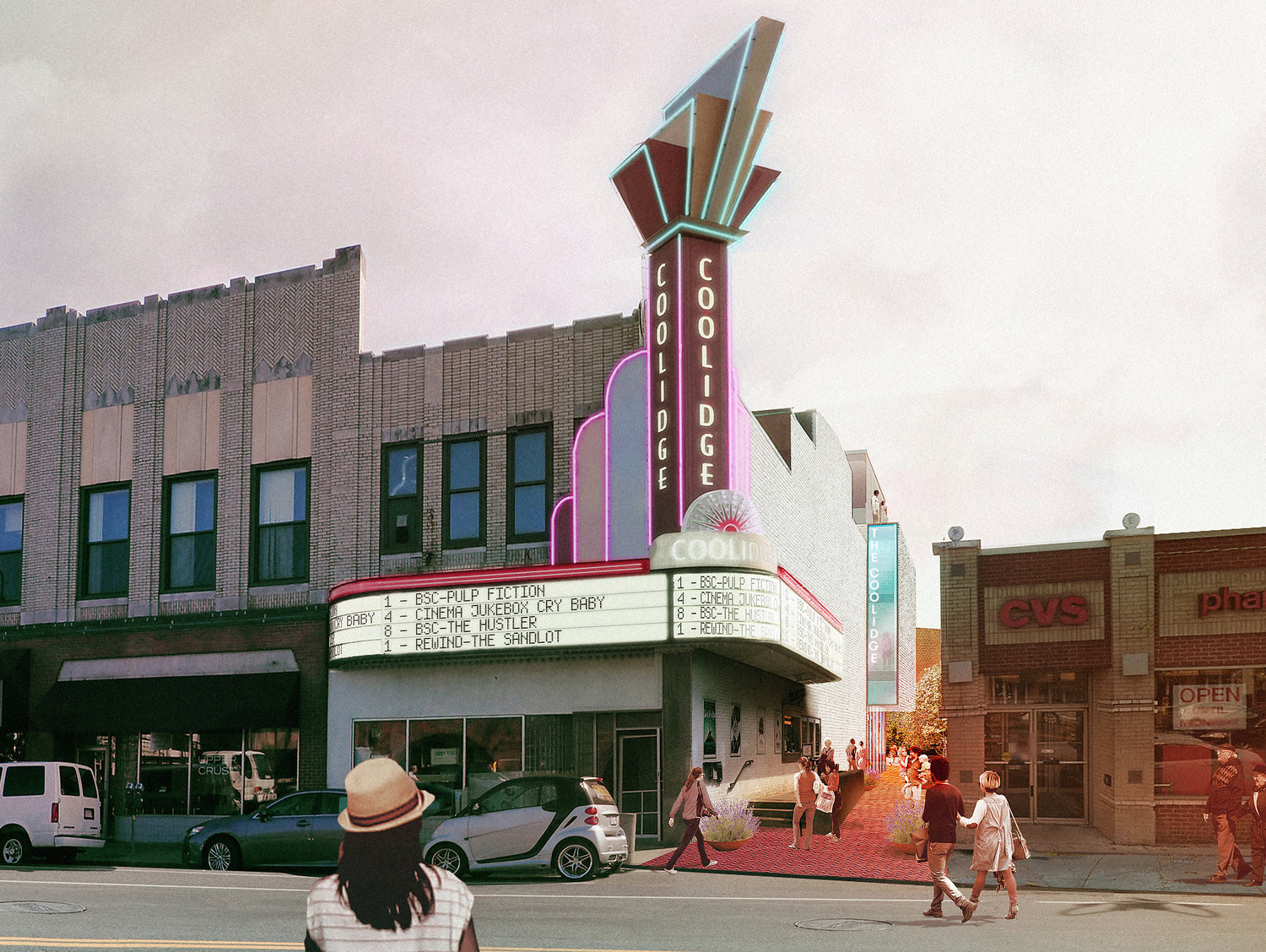 The Coolidge Corner Theater, a staple of Brookline, MA and a link to the golden age of cinema, has operated continuously since 1933. Already threatened by national chains and streaming services, independent theaters around the country have struggled to maintain financial solvency, and many haven't survived the death blow of COVID. But the Coolidge continues to thrive, supported by an enthusiastic community of theatergoers who contributed 90 percent of a $12.5 million renovation project, which is currently in progress without disrupting theater operations.
Katherine Tallman, CEO of the Coolidge Corner Theater Foundation since 2013, knew for years the theater needed an upgrade to serve its growing audiences. The 14,000 square-foot expansion features the addition of two theaters and an education center, along with a new lobby, entrance, and concession area. Tallman spoke to The Independent about this renovation project, the impact of COVID on the organization, and the community around the Coolidge, ending with a few questions about her favorite films.  
What did you do before you were the CEO and Executive Director of The Coolidge?
I've done a lot of different things before I came into this job. I've been in this role for just over nine years. Before that, in connection to the Coolidge, I was on the board for about eight years. My career itself was primarily financial services. I'm an MBA and CPA, I worked in public accounting and asset management, and that was pretty much the bulk of my career. I was on several boards of nonprofit organizations and president of one. But in terms of the career path that led to this, I never would have imagined this could happen.
I think my situation of ending up here is a really great example for people who are in the early stages of their career saying, "How do I do that?." I never could have planned this. But I've always loved movies and especially independent film. When I moved here 30-plus years ago for a job, I found the Coolidge around the corner from my new home. And then when I was asked to be on the board several years later through another nonprofit board connection, I was thrilled, and that ultimately led to this role. When I talk with younger people I say just pursue what you really like in one way or another. It doesn't have to be a career at some point. Pursue volunteer work. Just follow your interests and things will evolve. 
So this turned out to be a perfect culmination of all my background because I have a lot of financial background, a strong business background in marketing, client relations, sales and management, and it all comes together in this role. And I think there is more recognition that nonprofits really are businesses and they need businesspeople to be a part of the leadership team.
When did you first discover the Coolidge and when did you start going regularly?
I moved here in 1987 for a job with a real estate investment company. I didn't know anyone except for the people who interviewed me. I kind of randomly or serendipitously found an apartment around the corner from the Coolidge, and I was walking around the neighborhood and I found two things right away that were just like, "Oh my gosh I can live here." One was the [Brookline] Booksmith, and the other was the Coolidge. I grew up in the Detroit area and I'd been going to the movies my whole life. I'm certainly no film expert like my colleagues who are steeped in film knowledge, but I'm a big moviegoer, always have been and I've always liked independent films, international films. Those weren't always easy to find in the Detroit area, but I sought them out and I found them. 
So when I moved here and I saw the Coolidge I was like, "Oh my gosh, this is right here." Like, they're showing three or four films and I'd be lucky to find one of these where I came from. At the same time, I got assigned to a portfolio of assets in Arizona and California, so I moved here but I was gone all the time. And when I would come back I would read that the Coolidge was under threat of being demolished. You probably recall that or know that story. The community came together and saved the organization. And at the time there was no internet, there were few ways to communicate with people, so the community that came together to save the Coolidge knocked on doors, passed out pamphlets, called people, gave speeches outside—it truly was grassroots.
When I was in town, I came here all the time, and I think my experience was really indicative of what the Coolidge offers. I would come home from work, see what time a movie started, and just run over there and see it. I didn't have to know anything about it. I knew that anything the Coolidge was showing would not be something I would regret spending my time on. And I think that says a lot about our programming because it's still true.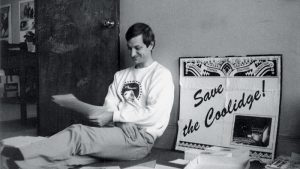 Did the threat of the Coolidge going away in the late 1980s help create a community around the Coolidge? 
No question. The Coolidge had a strong following, but some of the people involved in saving it didn't even really know each other, they just started calling each other, like "hey have you heard about this," and then they built a team that succeeded and the Coolidge was reorganized as a nonprofit organization in 1988. The Coolidge continued to grow over the next thirty years to a point when we didn't have enough screens to show all the films we could or expand our programming; and we also wanted to expand our role as a community resource. That was the impetus behind the expansion that is underway now that will add a big lobby, two more screens and an education center.
When COVID came, we were just on the verge of announcing a public campaign for the expansion. Then on Friday the 13th in March 2020, it was like "Oh my gosh, we're closed." Like everybody else in the world, we all thought this won't last very long. The presence of that community became immediately evident. As soon as we closed, we started getting donations from people. Donations and notes saying, "I love the Coolidge, I hope the staff is ok, I hope you're ok."
We ended up raising—during that COVID period, say a year-and-a-half—$800,000 in donations from that community, which really helped with expenses ongoing and no operating income. People really feel a sense of ownership and really are a part of the Coolidge. I used to say that the Coolidge community exists beyond the walls of the theater and that was really evident when we were closed.
Were you surprised when you got all those donations at the beginning of the pandemic?
I wasn't surprised, but I was surprised by the volume and number of new donors and the continuity of support. Our whole team was working over Zoom from home, and all the mail was coming to my house. I would put all the bills in one pile, and all the donations in another pile… And the donations ran from—and you may have read this story somewhere else—one day we got a check in the mail for $50,000, which just doesn't happen, and it was someone who ran another organization, a foundation, and said "you are going to need this to support your operations."
And in the same stack, was a piece of yellow paper with a five dollar bill taped on it that said, "this is all I can afford, I hope it helps." Well both of those make you burst into tears. The support was extraordinary, the money was really critical, obviously. But the words were so instrumental to keeping morale up and realizing that we were far from alone in our concern and our determination to save this organization.
You mentioned you raised $800,000, and 90 percent of the $12.5 million Coolidge Campaign came from donations. Did the pandemic help mobilize this surge of donations?
That's a hard question to answer. One of the things we know is people only have so much money to donate so when you're running an operations campaign and also running a capital campaign, both are important, and some people are trying to decide which to support. With the campaign, we had already raised most of that 90 percent. The rule of thumb for capital campaigns is not to go public before raising the majority of funds needed through major gifts (over $25,000).
I'll tell you one fascinating story. In the mid-1980s, a lot of independent theaters could no longer survive the competition of major chains. The Coolidge was a for-profit organization and the owner (who remains a great friend of the Coolidge) could no longer make it work financially and had to sell the building. A real estate developer was going to buy the building, tear it down because it could no longer function as a business and was perceived as the bad guy… BUT, he actually stepped back and gave the community a year to raise the money to save it, because he believed in the importance of community. 
The Coolidge was re-formed as a nonprofit, meaning it can take public donations. In 1989 we were celebrating the 30th anniversary and making a short film. I contacted the developer and asked him to be a part of the film, and said we're making this film, you played an important role in the history of this organization, will you participate in the film. And he said, "I'd be happy to as long as I can be honest"… So he came in, I met him, and long story short, his family foundation is a major donor to the campaign. So we've gone full circle from this person potentially tearing down the building to giving it a chance to find another path to 30 years later being a major donor and major cheerleader for this expansion. That's community.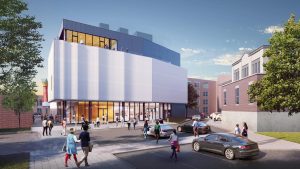 Was there any fear that the Coolidge would lose its charm with this glitzy renovation project?
Of course it depends on who you ask. I don't think so. We have had some feedback from some people who first saw the drawings and said, "this looks like an Apple store." We obviously take that input seriously. We've been working on the interior design to add the Coolidge look. It will have Coolidge personality and the Coolidge programming. We're not gonna start showing Marvel films, we're gonna show more of what we already show—independent, international, interesting films.
What I learned is that Art Deco is not static—it is an approach and it can be interpreted in different ways at different times. Our architect has presented a modern version of Art Deco that I think all of us will appreciate when it's complete.
How were you able to arrange a construction project that wouldn't emit fossil fuels?
Good question, you really did your homework. Our current building is gas [operated] and we initially thought we may do the same with the expansion. And that was around the time when [the nonprofit] Mothers Out Front was really involved in Brookline… and we started getting a lot of input from the community about eliminating fossil fuels. And we responded to that.
When we decided to go fossil fuel free; there was no mandate from the state. We thought it was the right thing to do and it turned out to be exactly the right thing to do. And we have an environmental focus in general. It's a pretty thoughtful community and a very thoughtful staff. We stopped selling plastic bottles of water and now have aluminum. One thing we couldn't do with the expansion that we really wanted to try was incorporate solar power. And we had donors to support that. There just isn't enough roof space up there to be able to generate enough power to warrant the solar panels. But we sure wanted to try.
Did the increased cost of construction and high inflation rates dissuade this project from happening?
No, in part because we were well under way [before] COVID. Ironically, when we were closed and trying to keep our community engaged with virtual programming and educational seminars, we also were pursuing building permits for the expansion. There's a long process with a lot of committees. It was really interesting because nobody focused on the fact that everything was closed. Everybody was so excited about the project and the look. It was so helpful to see people so excited about the future and to believe that the future would be different. There was a great groundswell of support to continue with the expansion.
I think that says a lot about the long-term view and the long-term expectation of the Coolidge's role. In terms of the inflation and the costs, our board really helped. Our board chair is a real estate developer, we have two architects and another person who's a major league construction project manager. Those people all really know what they're doing. And we're working with a great construction company, Groom Construction out of [Salem]. We ordered the steel and other key components ahead of time. So we literally encountered no major shortages. We did encounter cost increases. A $10 million campaign became a $12.5-13 million campaign. Some of that is due to availability and cost of labor. A big chunk is attributable to unforeseen conditions. The original building was built in 1906 and no drawings are available—for example, our construction team encountered a steel beam that was a surprise and required a workaround.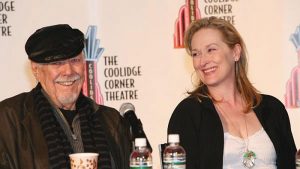 Does the Coolidge's location in Brookline, an upper-middle class community, help its ability to stay financially successful as independent theaters nationwide are shutting down?
One thing I would emphasize that I think is really important to know about Brookline—because it does understandably have this reputation as being a white wealthy town—Brookline actually has a 12 to 13 percent poverty rate, which really surprises a lot of people. But I think it's something that is notable and important and also speaks to the number of services that Brookline provides to the community. Brookline is also more ethnically diverse than perceived.
As a nonprofit, we generate about 25 percent of our revenue from donations and certainly having a wealthier community helps with operating support. A big factor that differentiates us is our programming and again, our community. That's true of a lot of independent theaters; the chains are having a harder time recovering.
In terms of our audiences, that has been a big difference since we reopened in May 2021. Our primary former demographic was older. Many people had been coming here since they were children. Now they're grandparents. It's a very multi-generational community. When we reopened, we were surprised to see a lot of people under 30. They have continued to return and are a new core audience. Most hadn't been here before and now are regulars. That's been a silver lining of what has happened after COVID. Some of it is the number of students in the area. Another part is the experience people have here.
Every time I go into our main theater, which looks much as it did in 1933 when it first opened, I think "this place is beautiful'. It (and all of our theaters) has premium projection and sound, we don't show commercials, we don't show 30 minutes of garbage trailers of things you don't want to see. It's just a really pleasant viewing experience. The audiences are collegial and you really get that communal experience. And people tend to become pretty familiar with each other. A lot of people have met each other and gotten married and now bring their kids. It's just different. You're more likely to see somebody here that you know than any other theater.
When can we expect construction to finish?
Our target right now is May 2023. If it rains for a week, we're behind. But fundamentally it's spring 2023.
What's a movie you can rewatch and never get bored of?
Certainly "Some Like it Hot" I can watch over and over again. "The Big Lebowski" at the Coolidge, which we show every year, along with bowling on stage and a  costume contest. "The Godfather." The list would be really long and include most anything on Turner Movie Classics, where I come across a film and get hooked.
Is there a movie that made you fall in love with movies?
What a good question. I can't say there is one, maybe "The Wizard of Oz." I'm from a generation that when I was young we all went to the local movie theater every Saturday. And those were pretty B-class movies. I think there were a lot of horror movies, a lot of Elvis, but it was something that we all did. And then also when I was young, I grew up in the Detroit area, and some of those downtown theaters like the Fox Theater were very Coolidge-like in terms of being really impressive, really beautiful, and going to a movie there was a special event. So I remember my mother taking me, I was probably 12, to see "It's A Mad Mad Mad Mad World," going to see "Mary Poppins." 
Of course movies have always been a part of dating. When I was in college there was a movie theater on campus and I would just go in and watch something. I've been going to movies by myself for as long as I can remember. When I hear people say "I don't want to go to movies alone," I'm like "It's one of the best things you can do." When I moved here I came to the Coolidge by myself. I refer to my Coolidge as my first friend here and I really mean that seriously. This is a place you can come to, you're comfortable, you're entertained, you feel like you belong here. The whole experience of sitting with people and watching something and hearing other people laugh or sniffle, you're not alone. 
Is independent film more about the aesthetic or about the finances/budget? 
I think it's probably both. Well, does a budget drive an independent film? Independent films just by nature have to work harder, they have to be more passionate, they have to be willing to throw it all on a line because they don't expect to make a lot of money, so there's a lot more love behind it. A studio film is much about the money. And that's one positive thing I think about streaming's impact. Netflix, Amazon, and Apple can put so much more money into filmmaking that more films get made and seen.
What's interesting about streaming is that after COVID all the studios released films directly to streaming. Now, they realize that movies that have theatrical releases are then more popular on streaming, and big studios are like "we're so sorry" and are back to releasing some films exclusively to theaters for a period of time prior to streaming. And now what you see everywhere is "in theaters only." They've all recommitted to the in-theater experience because they've realized there's a place for both. They're two very different entertainment experiences and they're two very different revenue streams and there's a place for both of them.
Favorite snack while watching a movie?
I would call popcorn and wine the perfect dinner and plant-based meal.
---