Rendez-Vous with French Cinema March 2-12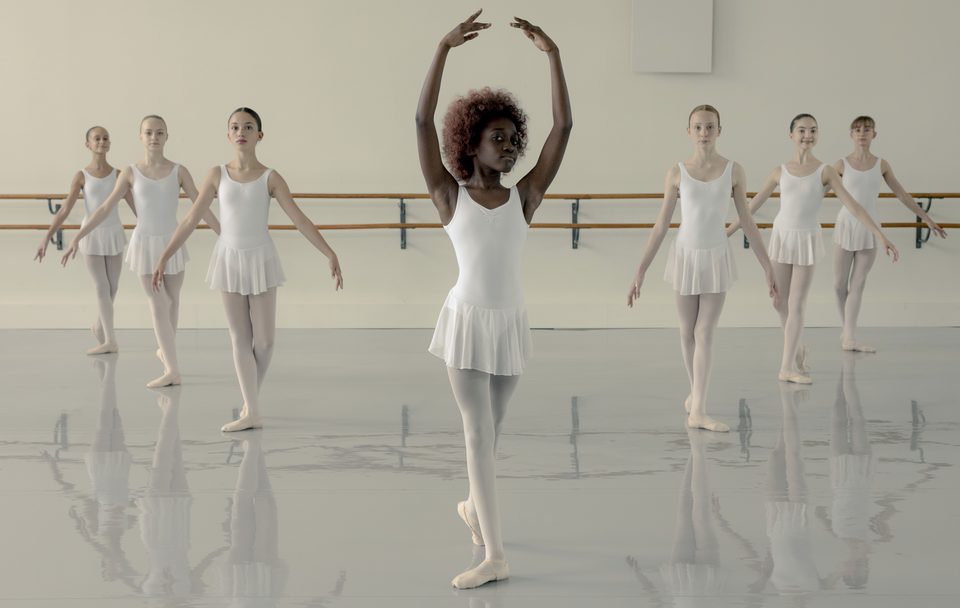 21 fresh new big screen surprises announce the promise of spring at New York's Lincoln Center
Film for film, performance for performance, there's no more pleasurable way for cinephiles to weather a Manhattan winter than to rendez-vous for ten days and nights in early March on West 65th Street. Audiences at the Walter Reade and Munroe theaters are civilized and mostly masked, there's popcorn but the carpeting's never sticky, no one has to suffer ads, intelligent reviews still get posted in the lobbies, the projection's perfect, all the seats are good seats. This year's selections by Film at Lincoln Center and Unifrance, its partner in Paris, are top-of-the-mark. You can even bring fleurs fraîches to some of your favorite French artists who've flown in with their movies, just to see you.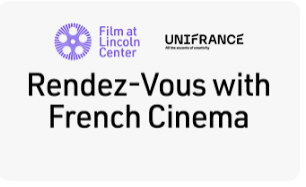 Up on screen, look! There's the tireless Vincent McCaigne, who's anchored as many as three films in one Rendez-Vous, playing another henpecked sad sack romping through a gorgeous Paris, here with lover Sandrine Kilberlain, in Diary of a Fleeting Affair. Why, there's Marion Cotillard, practically drenching the screen with her indomitable artistry, here a whacked-out actress in Brother and Sister, a literary/theatrical nightmare so infused with suffering, it beggars description. If you're pining for a kinder, gentler tale, Louis Garrel, with his sisters Esther and Lena, play a charming troupe of rural puppeteers clinging to a timeless art in papa Philippe Garrel's The Plough. Louis will explain family traditions in a free talk on Saturday, March 4 at 5:00pm. (He also directs and stars in the serio-comic hustle, The Innocent.) Here's another deal: the luminous Virginie Efira in not one but two critic's choice outings you're about to explore in detail–playing a caring schoolteacher who'd love to have a baby in Other People's Children, and a survivor of a mass restaurant shooting in Revoir Paris. Ms. Efira will explain some of the myriad aspects of her craft in a free talk Friday, March 3 at 5:00pm.
If you're looking for fresh insights into Algeria's struggle for independence from French colonialism, Les Harkis (Algerian Arabs) condenses the 1959-62 lives of combat recruits into a taut, fatalistic narrative history… while For My Country examines how a contemporary binational family seeks justice for a son's hazing death in an elite military academy — a rare immersion into the grieving process wrought by a crime-against-humanity that's stealthily ignored. Three memorable youth films include a wunderkind (Sally Drame) who can identity anything and anyone with a sniff (The Five Devils)… urban project kids being coaxed by a patient filmmaker to play themselves (The Worst Ones)… and student actors learning to navigate Chekhov in a theater school headed by Louis Garrel (Forever Young). 
The French drag scene is rendered with supreme accuracy as well as tender loving care in Florent Gouelou's Three Nights a Week, led by Romain Eck's unforgettable Cookie Kunty. Plus on Friday, March 10 at 4:00pm, a free talk including Gouelou,  "Queer Identities on Screen" will bring together American and French filmmakers to discuss LGBTQIA+ representation.  A fourth free talk on Thursday, March 2 at 5:00pm will showcase Rendez-Vous' Opening Night director of Revoir Paris, Alice Winocour, in conversation with filmmaker Sophie Barthes.  In addition, a jury of six students pursuing film and French studies degrees from New York colleges have been invited to choose personal favorites from this year's slate.
And who does crime noir better than the French? There are five thrillers lurking in the shadows here. In order of escalating dread: The ever-popular Vincent Lacoste returning  with Ms. Kiberlain in The Green Perfume, a light-hearted intercontinental caper shaded with Hitchcockian menace… Cedric Ido's breakneck violence tale, The Gravity, focusing on 14-year-old project punks vowing to waste drug dealers as well as reformed elders… Patricia Mazuy's icily savage procedural, Saturn Bowling, about a psycho killer who inherits a bowling alley and is egged on by its clientele of ruthless animal slayers… detective Bastien Bouillon vowing to find (and not finding) a serial killer who sets young women on fire in the truly disturbing Night of the 12th… and if you've never forgotten Gene Tierney playing the ultimate femme fatale in Leave Her to Heaven, do not even think of missing Laure Calamy manipulating her own identity in the paralyzing and aptly titled The Origin of Evil. 
Rendez-Vous' goal of displaying "the artistry, relevant and diversity" of contemporary French cinema has rarely been so fully achieved. Here are your three critic's choices:
Neneh Superstar: Ramsi Ben Sliman: France: 2022: 97 minutes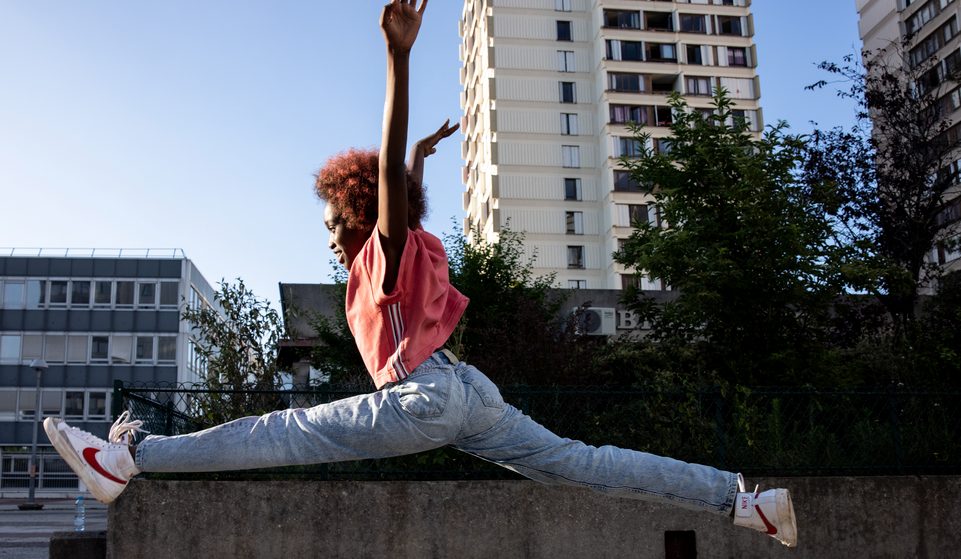 Let's introduce the first real life surprise star of this 28th Rendez-Vous edition. She's 12-year-old Oumy Bruni Garrel, born in Senegal. You might remember her as the playful youngster in The Summer House, directed by and starring her mom Valeria Bruni Tedeschi, shown at Rendez-Vous four years ago. (Tedeschi directs Forever Young in this year's festival.) Oumy's dad is Louis Garrel, who's all over this fest, on screen and in person. Looks like another Coppola dynasty in the making.
In Oumy's reel life here, she's Neneh-Fanta Gnaoré, a bright girl who lives in the projects outside Paris. Two of her strongest assets in a working class family are her loving and supportive mom and dad. They're acted by Aïssa Maïga, powerful in Maria Schneider in last fall's New York Film Festival, and Steve Tientcheu, equally powerful here in The Gravity. Neneh's singular passion is becoming a ballet dancer by auditioning and being selected to attend the Opera de Paris Ballet School, where she'll live and study. She's done her homework, studying the professional dancing of the school's teachers and head through videos. She's memorized the essentials of dance movements. She eats healthy and stays slim. At the playground, she has boundless hip-hop energy. Lo and behold she makes the cut as one of seven girls chosen out of too many to count.
Her classmates, as you see above, are all white girls of privilege, who view Neneh with a mix of curiosity and disdain. Initially they're all more accomplished beginners than their Black classmate, having had the advantage of private tutors since pre-school. And not all the dance teachers believe Neneh can, will or even should succeed. Worse, the school head, Marianne Belage (Maïwenn, in the role of a lifetime) doesn't either. Blunt and imperious, she tells Neneh "You weren't my favorite applicant," crushing the girl's hopes of Marianne becoming her mentor. And when the mean girls taunt and tease Neneh and she pushes back, it's of course the abused and not the abusers who get hauled into the principal's office with mom and dad. Marianne issues a dire warning and later lays out what we've suspected she's thinking, to her staff and even her Board of Directors: "We are the guarantors of the tradition of white ballet." This is one racist who doesn't pussyfoot around.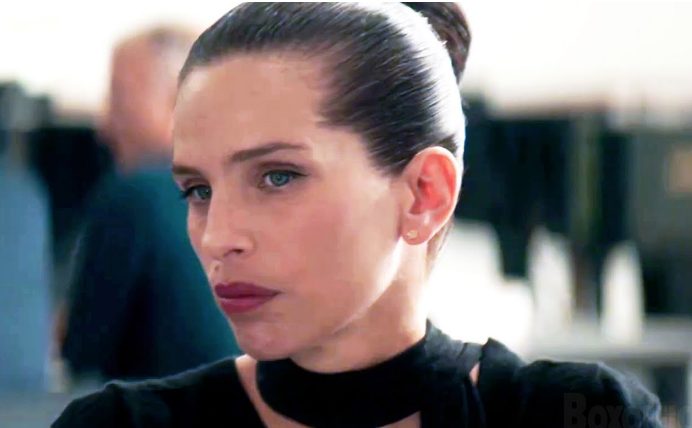 Writer/director Ramsi Ben Sliman has engineered school and student into what surely appears to be an impossible cinematic standoff. But we dare not underestimate the imagination of a writer/director who sees beyond the bend — to surprise, to educate, even to delight. Neneh and her parents refuse to be pushed away. She perseveres, even though the year-end student performance ballet might be Snow White. For a few days Nenah quits and mopes around public school, her playground and a public square, dancing a knockout ballet rap. But dad and Neneh know her heart is with the ballet stage. Back at the school, Marianne reluctantly accepts the recommendation of her Board head (who directs the Opera and who we know is a Neneh fan) for a sit down interview with a savvy newspaper reporter who's also done her homework. And suddenly the playing field between Neneh and Marianne is forever changed.
Neneh Superstar is this festival's game changer. It's been a while  since Maïwenn's artistry has been so fully displayed (My King, 2016 Rendez-vous, critic's choice). For a while here, she's the ballet world's Cruella de Vil, but in any guise she's a marvel to behold. Neneh's family, her fellow students, the teaching faculty have been cast, scripted and directed with care and expertise. The movie gleams like polished silver. And it's a win-win for Film at Lincoln Center that among the first New Yorkers to see it will be middle-school, high school and college students who'll view it free in special showings hosted by the director on March 6 and 7. Serendipity.
Other People's Children: Rebecca Zlotowski: France:2022: 104 minutes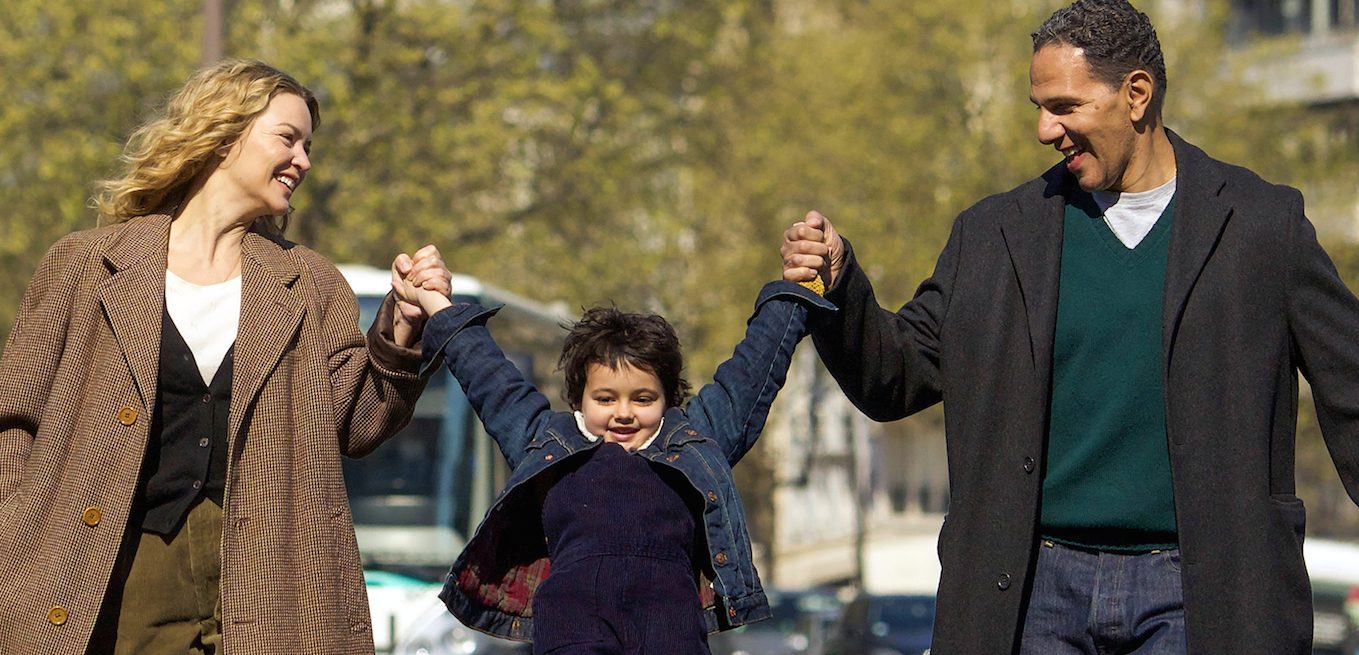 A female voice intones "You have a wife. Only she can help you." A male voice replies "I told her all about you and me. The only rule was not to fall in love." In the opening minutes, though we can't see it, a high school teacher is running a movie for students in a classroom outside Paris. The dialogue we eavesdrop on is from the 1959 version of Les Liaisons Dangereuses, directed by Roger Vadim, an outlier in nouvelle vague movies of the '50s. Vadim's five wives included Jane Fonda and Brigette Bardot, and he was regarded as industrial-strength at leaving women seduced and abandoned. His arty adaptation starred Jeanne Moreau, then the first lady of French cinema, followed by stage and screen versions boasting more  A-list actresses (Uma Thurman, Glenn Close, Laura Linney, Janet McTeer, Annette Benning, Reese Witherspoon). Nearly all adaptations of the 18th century novel by Pierre Choderlos de Laclos have been directed by men. Rendez-Vous' latest sublime variation is, at last, written and directed by a woman, and Rebecca Ziotowski is the one who gets it right.
Ziotowski's triumph is having the teacher in her mid 40s, Rachel Friedmann, played by Virginie Efira in an exquisitely nuanced performance guaranteed to melt your heart. Rachel is eight years separated and responsible, an idealized K–12 teacher every parent on earth hopes a child will have. At an evening guitar class, she's instantly drawn to Ali Ben Attia (Roschdy Zem), a handsome car designer separated from his four-year-old daughter and wife, who live in Paris. Rachel falls in love with Ali almost as fast as they fall into bed. He certainly looks and acts like Mr. Right. She seems the woman he's waited to restart a life with. They can't stop texting. After joining her father for Yom Kippur services, Rachel beams all this to her younger sister Louana (Yamée Couture), who's soon to become joyously pregnant.It's not surprising when Rachel's OBGYN reminds her "there's not an abundance of follicles," that her biological clock is ticking. "How much time do I have?" she asks Dr. Wiseman, "That's what I ask myself," he smiles. What's novel here — and this is the first of a dozen unexpected novelties in this movie — is that Dr. Wiseman is played by the esteemed documentarian Frederick Wiseman. Really. Seriously.
Rachel goes off the pill, committing to have Ali's baby. He senses this — mutual lust and passion without protection reign for weeks. Then Ali brings daughter Leila (Callie Ferreira-Goncalves, adorably natural), to dad's apartment for a school vacation visit. The bonding between the three is warm and intimate. They train off for a weekend together in the country, visit a rodeo with Arabian horses. Rachel observes she's not pregnant but she's game to keep playing mom, even after meeting Alice (Chierra Mastroianni, beautifully cast and equally likable, as Ali's wife).
At which point director Ziotowsky, having patiently scaffolded a secure super-structure of emotional support around Rachel, begins pulling out the pins, one by one. Leila, now five, misses her mom when she's not with her. "Why is Rachel always here?" she whispers, and Ali mutters that "I love mommy but Rachel's my girlfriend." Then Ali ups and carts his wife and daughter off for a birthday visit with Alice's parents. And Rachel starts to feel "I'll always be an extra." Later she narrowly avoids a serious car accident with Leila strapped in. Ali mopes that "I'm trapped because I love you." Rachel will later tell Alice that "Ali's the one who made me suffer, not you." The director, perhaps echoing the timeless sighs starting to go up in darkened theaters everywhere, actually uses an irising effect in the camera, telescoping in and out between scenes, as silent movies used to do. There's a moment when we observe a detail that eludes even Rachel in the playground, which you won't stop staring at — the guy who fathered her sister's new baby has been cast to mimic a younger Ali. A reminder we have indeed been to this story and this movie before, maybe all our moviegoing lives.  It's no accident that the song slyly insinuating its way through the soundtrack is the 1949 "Again (This Couldn't Happen Again"), sung by Doris Day.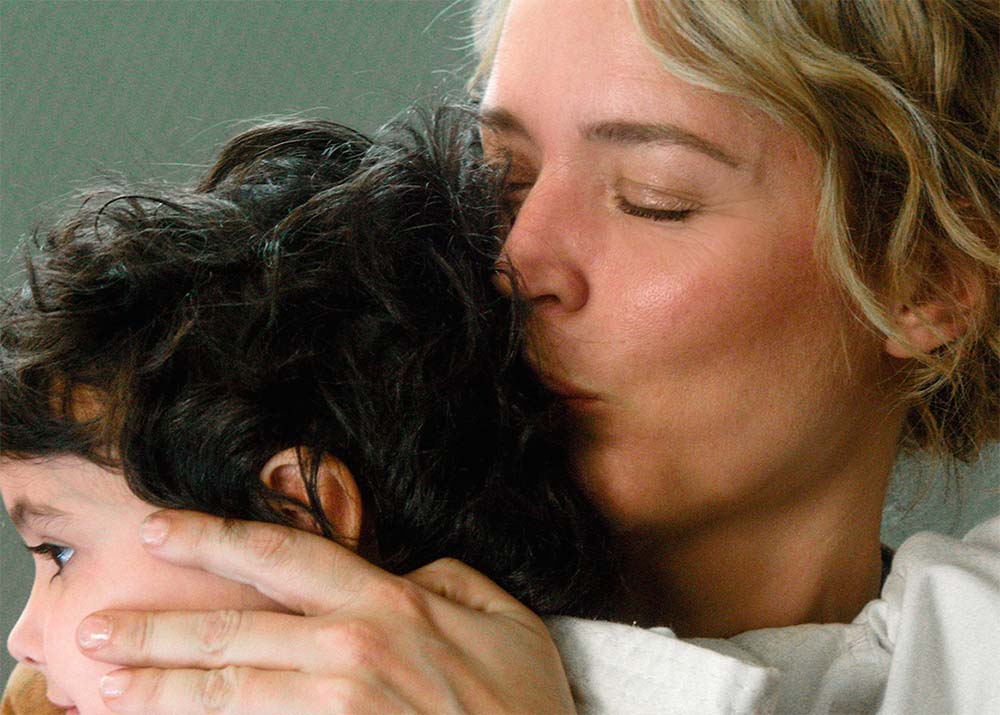 Ms. Efiia, playing her age, has one of the most expressive and nuanced faces in today's cinema. Ziotowski senses this and stays in tight on her. You're being treated to a master class in acting, surrounded by a pitch-perfect supporting ensemble. Zem, Mastroianni, Couture, Callie, Henri-Noël Tabary as a smitten faculty colleague and Victor Lefebvre as a problem student who Rachel refuses let the school expel — even Wiseman the inexhaustible patron of cinema itself, are all pulling for Rachel to succeed in love as she succeeds in the classroom. Will she?
Revoir Paris: Alice Winocour: France / Belgium: 2022: 105 minutes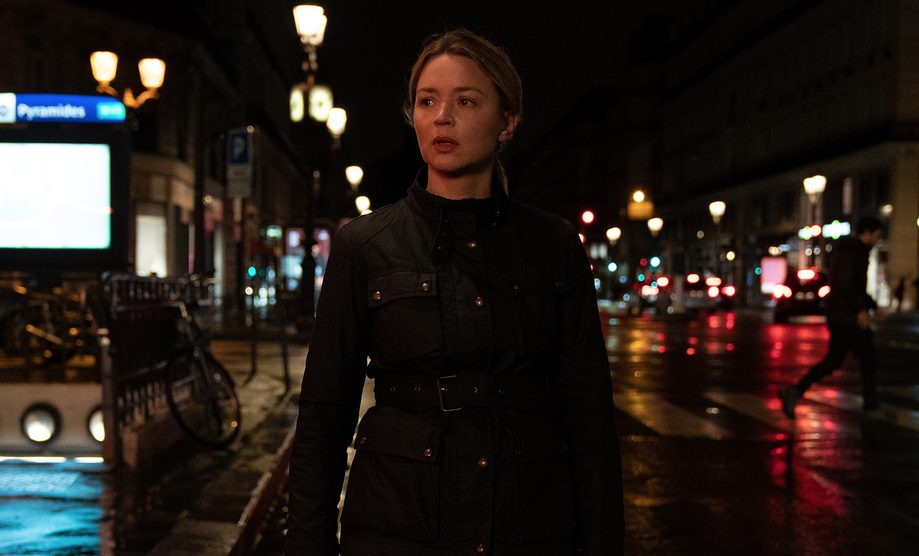 On the night of Friday the 13th in November, 2015, three teams of coordinated suicide bombers and heavily armed terrorists stormed two Parisian restaurants and bars, a sports stadium and the Bataclan concert hall, nearly simultaneously. Alice Winocour's brother, Jeremie, barely escaped being one of 90 citizens murdered at the Bataclan. Revoir Paris, which translates to Seeing Paris Again but carries the English title Paris Memories, is her dramatized account of what happened and what followed in one restaurant.
The patrons were under siege from 8:49 until 10:37pm, most pinned to killing floors beside the dead and wounded. People barely breathed, holding hands, while the slayers stalked the two dining areas, kitchen and hallways. Winocour stages the attack with the same impeccable production design and precision editing she applied to Disorder, her 2016 Rendez-Vous selection that was packed with mayhem. Here the camera's at floor level with most of the power knocked out, and the slaughter we see lasts less than a minute. Winocour's primary concern is not what happens before or during the massacre, but how its victims heal their lives in its aftermath. Like New Yorkers who've survived an airborne menace that's already killed over 45,000 fellow residents, Revoir Paris beckons you in like a magnet.  It's a singular movie with the right message at the right moment, not unlike Laura Poitras's All the Beauty and the Bloodshed.
It also has Virginie Efira playing a victim, Mia, a Russian translator for French radio. Mia has a treated body wound that'll eventually require surgery. She's spent three months with her mom, resting, and returns to her apartment with much of her memory of that night erased. We know she's in a long term relationship with Vincent (Grégorie Colin, effective as another wrong guy choice). He's a hospital department head, and spent the night of terrorism treating the critically wounded. They have no children, though as their lives together resume and become unglued, he tells her maybe they should have had a child. After watching Efira demonstrate countless tiny facial shifts in Other People's Children, it's hard to believe the same actress can hold the screen so effortlessly with just one look — somber, numb and expressionless. The terrorists have left her with an emotional face mask of shock that she can't remove.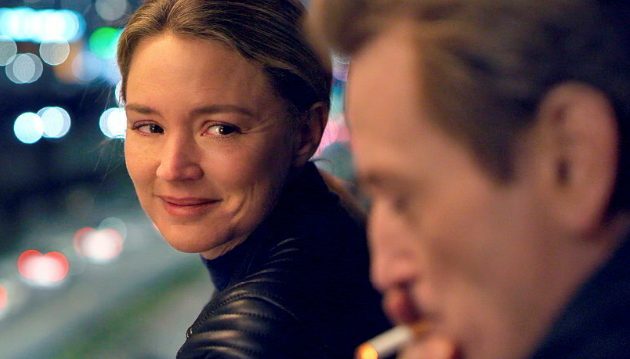 Winocour developed her screenplay with contributors Jean-Stéphane Bron and Marcia Romano, researching online survivors' forums,  her brother's experience and talking with other victims. As in yet another important contemporary drama, She Said, in which a named Hollywood producer is the attacker, the heart of Winocour's storytelling is in the stories of the women who survive the attack, or have lost loved ones and friends. One continuing thread is another confused woman victim who accuses Mia of locking herself alone in the restaurant's  bathroom, though we know she didn't. (There are quick flashbacks before and during the carnage.)  Mia's befriended by a financial exec, Thomas, on crutches after three surgeries, who watched assistants on either side of him die, shortly after a birthday cake arrived at their table. The banker is played by Benoît Magimel, currently knocking out audiences as the French island commissioner in Pacifiction, and his full recall plus steadying influence help aid Mia's recovery, as well as the picture's flow.
Mia tasks herself to locate a Black man with a bloodstained apron — maybe a restaurant cook. They made eye contact on the floor and held hands throughout the attack, never moving.  He whispered that they wouldn't die together. She joins a trauma group that meets in the restaurant, now reopened with a mostly new staff. A holdover waitress, Nour (a superb Sofia Lesaffre), points Mia toward the large undocumented immigrant community of Paris, where her protector Assane (Amadou Mbow) still lives. Assane voice-overs his own story about how he worked his way up in upscale Parisian bistros. His most telling observation is  "If the Senegalese, Malian and Sri Lankans went out on strike, nobody in Paris would eat." Mbow, Efira and a fine cast under Winocour's incisive direction have made us see Paris again, surely in a way we've never visualized it before. To absorb its full impact, see Revoir Paris on the biggest possible screen, and see it masked up.
This concludes critic's choices. Watch for Brokaw's picks at the 52nd annual edition of New Director/New Films, March 29-April 9, sponsored by Film at Lincoln Center and The Museum of Modern Art.
---