In Conversation: Megan Kapler and Harry Cullen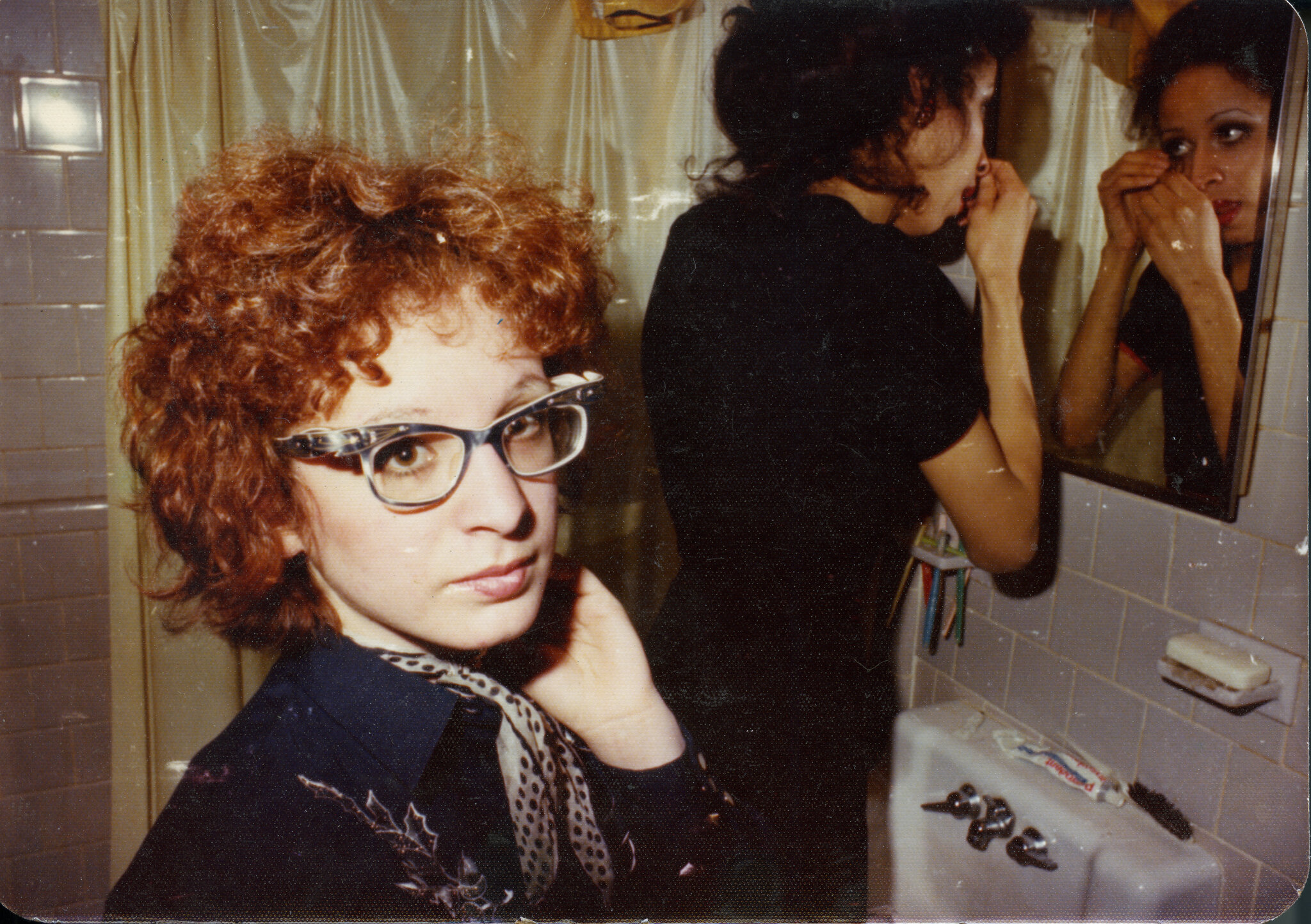 Sophie Casarico talks with two members of Nan Goldin's PAIN about the organization's relationship to "All the Beauty and the Bloodshed."
In advance of the Bright Lights Cinema Series screening of Laura Poitras' 2022 documentary "All the Beauty and the Bloodshed," which chronicles the life, art, and activism of trailblazing photographer Nan Goldin, I spoke with co-producer Megan Kapler and documentary participant Harry Cullen, who have both served as organizers with PAIN (Prescription Addiction Intervention Now) since 2018.
Founded by Goldin in 2017 in the wake of her own addiction to OxyContin, PAIN is a direct action group that works to hold the Sackler family accountable for their company Purdue Pharma LP's manufacturing, distribution, and aggressive marketing of the opioid OxyContin, which fueled the opioid epidemic. PAIN uses public demonstrations to draw attention to the Sackler family's funding for art museums and cultural institutions worldwide—funds, PAIN argues, should instead be used for treating opioid addiction. PAIN specifically chooses cultural institutions where Goldin's photography is in the permanent collection, and they threaten to withdraw her work if those institutions do not remove the Sackler name from their galleries or refuse further funding from the family.
Casarico: Since its release last year, "All the Beauty and the Bloodshed" has enjoyed some very well-earned success. In addition to being nominated for Best Documentary Feature Film at this past year's Academy Awards, it won the Golden Lion at the Venice International Film Festival, making it the second documentary ever in the festival's 79-year history to do so. How has the release of the film impacted your work with PAIN? Has this increase in media attention resulted in more resources becoming available for the organization?
PAIN: We've definitely seen an increase in the number of small, private donations to PAIN—which is great, because we operate on a shoestring budget. But what's even better is that a lot of the people who watch the film feel compelled to address these issues in their own lives and communities.
We view the film as a continuation of PAIN's work and it's been incredible to receive the supportive response from the public, the press, and the activist community we work with on a daily basis. It's been really validating and we are trying to use this attention to talk about harm reduction, ending overdose and the war on drugs, and destigmatizing drug use.
Casarico: Your work is so valuable, but not without risk. The sequence in the film depicting the stalking you endured from the Sackler family is just horrifying. Nan reflects that she views photography as "a way to walk through fear–it's protective. It gave me a reason to be there." From where do you draw your strength?
PAIN: When members of PAIN were physically followed in 2019, it was really scary, but it also validated that the work we were doing was having an effect. We found strength in our small, supportive group, as well as the guidance and leadership of longtime activists who had faced similar threats. There's no way this was going to stop our campaign.
Casarico: The PAIN protests shown in the film are, by design, intended as acts of public spectacle. I'm thinking of that indelible opening scene in the Met gallery with those hundreds of bright orange empty pill bottles in the reflecting pool, and then all of you laying down on the floor for the die-in. It's like something out of a Greek tragedy. In your New York Film Festival discussion with director Laura Poitras, Megan mentions the decision to stage protests on days when the museums offered free admission, to increase the amount of people around to witness your activism. Harry calls attention to "the activism of the art itself," noting how Laura went from following your work to walking alongside you. All art is in some way political; conversely, how do you think about your activism as art?
PAIN: In PAIN's five years, we've staged only six museum actions. This is because we wanted to be very serious about the spaces we were occupying, making the actions beautiful and allowing them to have the biggest impact. We researched each protest site to understand their relationship to the Sacklers and how to transform the space. We also wanted to create an ephemera that the public could visualize relating to the overdose crisis, like our bottles and prescription slips.
The intense planning and choreography that went into each action, on a physical level, media level, made them like full-on performances. We wanted to truly engage people to capture their attention and compassion, and our actions did that in the museums themselves, all over the news, and now, in this documentary.
Casarico: Laura notes in that same discussion that PAIN and Nan had been filming for about a year and a half prior to inviting her to the project. What was the initial conception for this piece? Did it conflict with Laura's vision for the project?
PAIN: We knew from our first meetings that what we were doing could be big and so we wanted to document ourselves. Many of the institutions we protested were bending over backwards to NOT acknowledge us—so recording our meetings and our actions meant we had a record.
When Laura came into the project, the direction of Nan's audio interviews and personal life and the history of her career as an artist started to be constructed.
These two halves of the film are essential to each other—Nan's story gives viewers a place to hold onto when seeing the modern day PAIN actions. Her story helps us to understand how the stigmas PAIN fights against destroy peoples lives, and how the Sacklers weaponized this.
Casarico: And finally: With PAIN, you not only speak against the corruption of Purdue Pharma and the Sackler family, but advocate on how to practice harm reduction. What's a common misconception you'd like to correct about the nature of addiction?
PAIN: In this country—everyone uses drugs. But we create a hierarchy of acceptable and unacceptable ones. The criminalization of some drugs is what forces so many into the shadows and into danger. The stigma is what kills.
Harm reduction is the cure to this stigma. If we can look at a whole person, and treat what ails them whether they want to keep using drugs or not, we start to revolutionize the way we look at health care.
---