Bright Sun Films' "Closed for Storm" Explores the Legacy of Six Flags New Orleans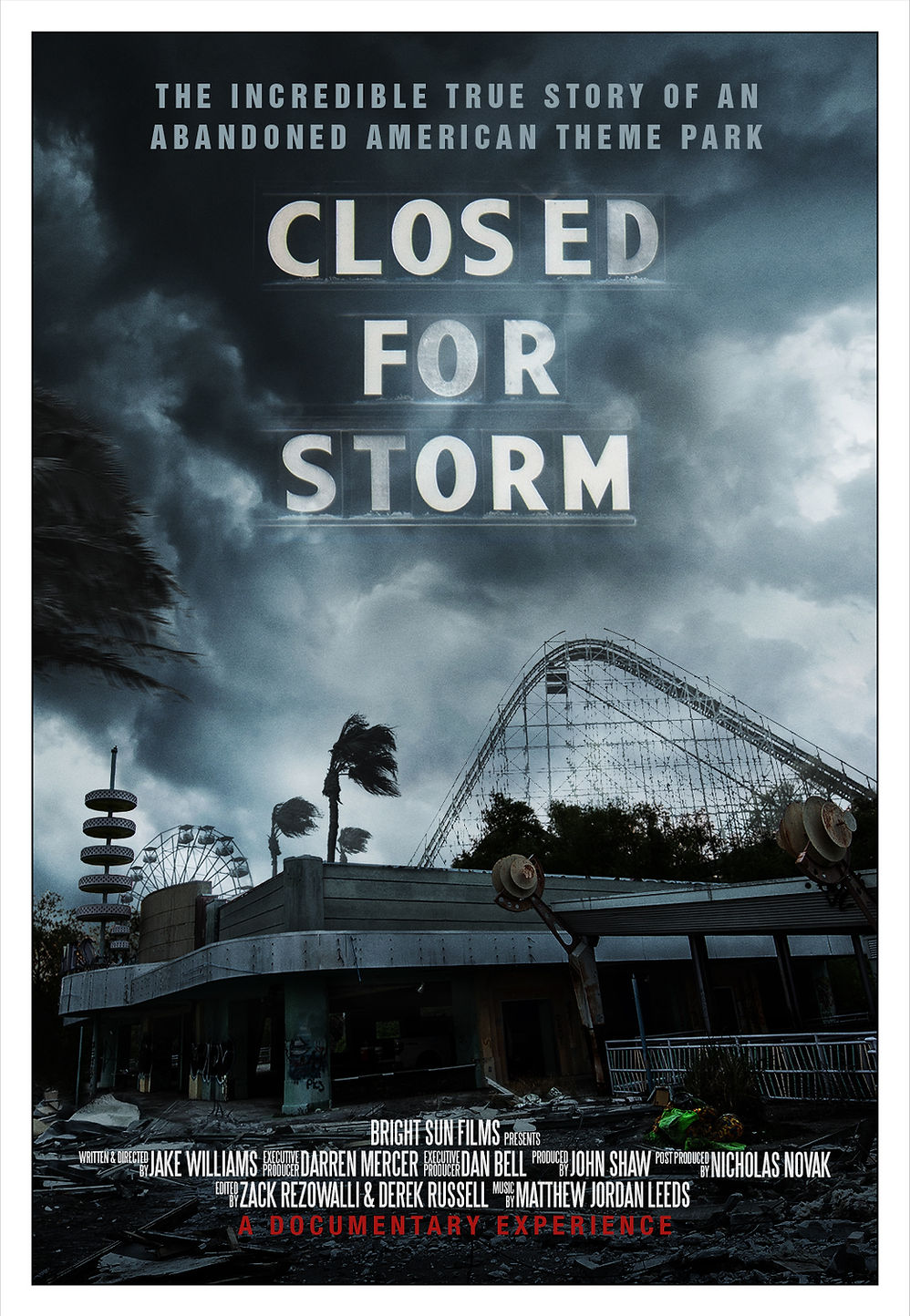 "Closed for Storm" succeeds at revealing the history of Six Flags New Orleans and honoring it as a symbol of the city's enduring identity in the face of Hurricane Katrina. However, the film falls short in exploring the park in its current state.
Director and YouTuber Jake Williams' debut documentary feature "Closed for Storm" traces the troublesome history of Six Flags New Orleans, an abandoned theme park in New Orleans East. From its initial conception as Jazzland in 2000 to the park closing in 2005 for Hurricane Katrina, this film is a rollercoaster ride of ambition, hubris, disdain, and lingering hope.
Williams' YouTube channel and production company, Bright Sun Films, is known for making short documentary videos about deserted areas — many of them defunct businesses. His videos often follow a formula with the first half of the video dedicated to archival footage and photographs to give his audience a historical background, and the second half involves Williams visiting the area himself and recording his findings. These two halves come together to create a brilliant juxtaposition of the "before and after" of these abandoned sites. Williams personally exploring these locations also creates a sense of adventure and exhilaration for those fascinated by abandoned places or urban exploration.
"Closed for Storm" follows the standard Bright Sun Films formula by dedicating one-half of the film to archival footage and the second half to newer material. In terms of older footage, the film does an excellent job of bringing the park's past back to life and highlighting the theme park's unique attributes — a French Quarter-themed main section; the animatronic jester, Jocco, who sprayed visitors with water; a fountain with various jazz instruments; and even a ride with a laser tag component. This footage helps viewers understand what the forsaken property once was, what it meant to the New Orleans East community, and what it could have been.
In terms of newer material, we only get a glimpse of what Six Flags New Orleans looks like today, but what we do see is shocking. Currently, the park resembles an unburied time capsule perpetually trapped in 2005. Dirty calendars and schedules litter ransacked, ramshackle offices and ride operations facilities. A family-friendly destination is now graffitied with phalluses and profane homages to Looney Tunes-themed rides.
Most disturbingly, the viewer can see the water line on walls where the flood water sat and receded – a lasting scar from Hurricane Katrina. The excessive moisture caused black mold and mildew to grow on walls and ceilings. What was once a brightly-colored, beloved travel destination is now a faded eyesore lowering property values for neighboring inhabitants. However, it is also a monument of New Orlean's resilience during one of the city's most catastrophic natural disasters.
Yet, the implications of this footage are interrupted by Williams continuously exclaiming "Holy Christ" and "Wow!" It gets old very quickly. It's like an overused laugh track that, instead of helping the audience identify humor, invades the experience and ruins the joke. In this case, Williams isn't letting the viewer think about the images and sounds they are perceiving. His directorial presence is annoyingly intrusive rather than passive/guiding: "Show, don't tell." Also, because there is less footage, the sense of adventure and excitement that goes with investigating deserted areas is limited.
The last part of the film focuses on the future of Six Flags New Orleans. Six Flags filed for Chapter 11 bankruptcy in 2009 and bailed on the park, leaving its fate to the New Orleans community. Some developer plans include demolition, recreating Jazzland, creating a community advisory board to let the people decide the park's fate, and building a massive sports entertainment complex. Unfortunately, the city had not made a decision when the film was being made (for the record, the city is going with the sports entertainment complex).
Despite my complaints, "Closed for Storm" is a decent movie that pulls Six Flags New Orleans from the swamp and reinforces it as an enduring symbol of New Orleans during extreme hardship and gives us hope for the park's future. This film's ability to not only honor the park's history but paint it as an enduring symbol makes it stand out from previous Bright Sun Films' work and abandoned location filmmaking in general.
While I wish we would've heard more from the locals, Williams expressed difficulties with interviewing people in a-behind-the-scenes YouTube video. In terms of filming more of the area, perhaps there were legal or physical restrictions limiting their ability to do so. I recommend watching it, but if you do, consider it separately from any urban exploration videos you find online, and consider it as an extension of the New Orleans community. "Closed for Storm" is available on all major video-on-demand platforms, including Netflix and Amazon Prime.
---
---
Regions: United States