Film Journal: The Making of an Independent Feature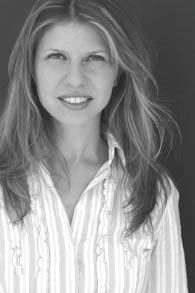 Filmmaker Valerie Weiss will share her experiences of financing, making, and marketing her first independent feature film Losing Control in this monthly film journal.
On May 20, 2009, I sent an email out to my friends and family announcing that I was raising $200,000 to make my first feature film, a quirky romantic comedy called Losing Control about a female scientist who wants proof that her boyfriend is "the one." We had only $10,000 in the bank at that time and I set a very public deadline of July 1, 2009 to complete fundraising and begin pre-production. To open the film journal series, I'll explain how I came to write that email and what led me to make Losing Control.
The email was inspired by several things: 1) reading Darren Aronofsky's The Guerilla Diaries about the making of his first feature, Pi; 2) being pregnant with my first child; and 3) taking my first painting class.
Let me explain.
I had attended Harvard Medical School for my Ph.D. with a vague notion that I wanted to be a filmmaker. I had directed several plays in college by playwrights like Christopher Durang and Edward Albee and thought I might want to direct films, but knew it would be a hard path to navigate. I also loved science and felt that my perspective as a scientist and relentlessness for figuring out what is true was important to my voice as a director. In some ways, being a scientist and being an artist were always the same to me, they just focused on different questions. I decided that I would study film while doing my Ph.D. in biophysics; and after graduation, I would do whichever one I was more passionate about. I also believed that if I could complete a Ph.D. in my chosen field then I could do anything — including make a film.
While at Harvard I founded the Dudley Film Program and made my first film while writing my Ph.D. thesis. Two weeks after we wrapped, I defended my thesis and never did another experiment again. I was in love with filmmaking, and while I knew it would be just as hard as my thesis was, with as much uncertainty, I believed that the skills of self-reliance, persistence and utter inability to quit, would serve me well in film.
My husband and I both left our safe careers, his as a lawyer, mine as a scientist, and moved to LA to be an actor and director, respectively. Once we moved, I began writing Losing Control using notes and observations I collected during grad school. I spent several years weaving together the colorful characters and outrageous experiences into a story that was both personal and accessible.
Seemingly good fortune came my way when The New York Times caught wind of the premise of Losing Control and was attracted to the idea of a Bridget Jones-like biochemist who wanted proof that her boyfriend is "the one." Suddenly, studios and large production companies were requesting the script and meetings, and my quirky little film was being evaluated for its commercial appeal. Creative execs gave me lots of ideas about how I could completely change my script to make it just like other movies. None of these ideas resonated with me and I knew I could not write them, let alone find the passion to direct them.
This cemented my plan to raise independent financing to make Losing Control myself. At the time, the consensus was that a film like mine would cost several million dollars and in order to raise that kind of financing, an A-list star would need to be attached. Independent filmmaking has changed drastically in the last few years. Ten years ago it was a lot easier to attract stars to independents without studio involvement or financing in place with a good script. Now, that has all but dried up. Because of a flood of humdrum content with "names" have been produced and gone straight to DVD, agents and talent are extremely skeptical of independent films, which no longer carry the promise of "artistry." And as financing has dwindled generally in Hollywood for all but big franchise movies like Iron Man, the $2 million budget has become a studio movie. The new, truly independent movies are now priced much lower and made much more creatively in terms of resources and talent.
Examples of movies historically made this way are Swingers ($200,000 budget) which launched the careers of Vince Vaughn and Jon Favreau; Napoleon Dynamite ($350,000 budget) which was made with all unknown talent and grossed close to $48 million at the box office; and Once ($150,000 budget), which again starred all unknowns and was picked up by Fox Searchlight and nominated for an Oscar for Best Song. These movies all share one thing: they have a clear, distinct voice. They are essentially works of art that happened to be successful from a business perspective because they were true to a vision.
Years ago I had read Darren Aronofsky's The Guerilla Diaries and his complete commitment to get his movie done and have every element from the writing to the casting to the production design serve a single overall cohesive vision resonated with me. It was so similar to my experience doing experiments during my Ph.D. because if you are not extremely clear, and ruthless, in your focus about what you are trying to accomplish, it is so easy to miss your mark. Darren has gone on to a successful career that has afforded him many more resources, but the discipline that was developed during Pi has enabled his subsequent work to retain an artistry and wholeness of vision that has made them extraordinarily successful.
After spending years trying to make Losing Control instead of actually making it, I had reached a point where I knew that if I did not make my film, I would go crazy. It is the worst torture in the world for an artist to be deprived of the ability to create. It is a similar torture for a scientist to be deprived of the ability to discover — something that happens to the main character in Losing Control. I remembered some incredible advice that a mentor had given me upon moving to LA — "Don't put your life on hold for this business." That was the problem. Not only had I been putting off the actual making of my film as I waited for someone to give me the opportunity to make it, but I was stalling in my own life. My husband and I had been together for several years even before moving to LA and had been on the same page about wanting kids since the moment we met. And here I was years later telling people who asked me when we would do that, "After I make my feature." Stalling your life is truly a death for an artist. What do you draw from if not your personal life? I had been making the same mistakes in my own life that my character in my film was making…I was trying to control the uncontrollable.
Finally, one night I made the simultaneous decision that in 2009 I would give birth to twins — one named Annabelle Sadie Johnson and the other named Losing Control. Being a somewhat spiritual biologist, I really believe that the capacity to make Losing Control grew inside me alongside Annabelle. Ironically, the bigger my belly got (and it got really big as I gained 60 pounds), the more confident I became that I would and could make my movie my way for any budget.
What cemented this truth for me was a painting class that my husband had encouraged me to take. I was adamant about not producing Losing Control while I was actually pregnant, because I did not want the tremendous amount of stress that making a movie brings to take its toll on me or the baby. I still had an intense need to create and so I decided to take a visual arts class at the Los Angeles County Museum of Art. I thought photography would make the most sense for a filmmaker, but the class was full, so I signed up for painting. I had never painted and had only taken one drawing class while in college which I had found extremely frustrating.
I took the painting class with no pressure because it was meant to be a fun, creative hobby to pass the time till I could get back to work making movies. The biggest surprise was how much it inspired me. Just by looking very closely at a subject, having a very clear vision of what I wanted to accomplish, I could use available and affordable materials to make my art. I was addicted. I painted everyday for the remainder of my pregnancy. I woke up at 3 AM to eat (that 60 pounds came from somewhere) and to paint. This is exactly what I had waited years to do — have the ability to create on my own terms, whenever I wanted. My paintings were like epiphanies to me. They reminded me that filmmaking should feel like this — choosing a subject, picking a perspective, refining your palette, deciding on a tone, picking the right paints, mixing them together, then painstaking revisions until what is on the canvas matches what is in your head.
Once Annabelle was born, I did not feel as great a need to paint. I had sealed my intention to make my movie, on my terms in a reasonable timeframe. I looked at the films that had inspired me and knew that Losing Control fell into the same category. Its originality and magnetic characters just needed a canvas on which to live. I revised my business plan to reflect this new approach and a budget to match, and like Darren Aronofsky, I sent letters to friends and family and asking for their support. It was a very public declaration that I was ready to create. I am excited to share with you the journey of the making of Losing Control.
For more information about Valerie Weiss, visit www.phdproductions.com
---
---
Regions: California