NYFF 2012 Critic's Choice – "Celluloid Man"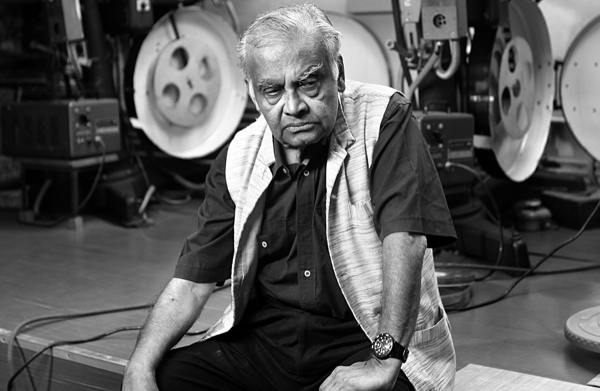 The Independent's senior film critic, Kurt Brokaw, is viewing the entire main slate (plus) of the 50th New York Film Festival, showing at Lincoln Center September 28-October 14th. Below is one of several critic's choices. A festival overview and complete list from 2012 is here.
Celluloid Man
(Shivendra Singh Dungarpur. 2012. India. 164 min.)
Going almost unnoticed in a corner of the Walter Reade Theater's reception lounge is a lone pile of 34-page schedules from the Anthology Film Archives. The listings are published quarterly and describe hundreds of upcoming retrospectives, ongoing and special series, and premieres; the films range from cut-and-paste collage animation and "60 years of Austrian experimental cinema" to classics by Dreyer and Eisenstein. The proprietor and artistic director of this Second Avenue cinema and its formidable building is 79-year-old Jonas Mekas, who was the subject of the 2010 documentary (a critic's choice at that year's Tribeca fest), Visionaries.
One thinks of Mekas padding about Anthology's corridors in his jaunty fedora and work shirt, supervising the 65,000 reels-in-cans housed there, and the question that slowly forms is simple: How many other archivists and preservationists like Mekas are out there? This is a result of what you could call the Pena Effect. It's a reaction to Richard Pena's quarter century of uncovering new as well as significant older films from Africa, Arabia, Argentina, Cuba, Hungary, Korea, Poland, Sweden, Taiwan and other far-flung lands. The breadth and depth of the Pena Effect has been felt throughout the city of 8 million stories, more and more of which originated outside New York. What this undeniably suggests is that where there are movies, there may be other lovers of movies who devote their lives to protecting and preserving them. (There are even those who work to protect and preserve film magazines.)
Enter Celluloid Man, a 164-minute exploration of Paramesh Krishnan Nair, India's film savior. Nair graduated from the University of Kerala in 1953, worked some years in Bombay on film projects, and joined the Television Institute of India as a researcher and teacher in 1961. He concluded over the next several years that a separate entity would be needed to collect the world's major films as well as the total output of India's filmmakers. And so in 1964 Nair became the librarian and a curator at the fledgling National Film Archive of India in Pune. Over the next 30 years he built an unprecedented collection of 4,000 foreign films by important major directors (Bergman, Kurosawa, Fellini, DeSica, et. al.) and 8,000 films made in India, including the nine silent films still extant out of more than 1,700. He showed countless films to visiting filmmakers, actors, scholars, and students in a theater built for him by the Archive.
Celluloid Man's director, Shivendra Singh Dungarpur, was one of those students, and thus has become the ideal documentarian of Nair's life and work. Dungarpur is a successful commercial director as well as restoration expert (he's responsible for the restoration of Uday Shankar's 1948 Indian classic, Kalpana, which years ago was shown at Lincoln Center, with funds provided by Martin Scorsese's World Cinema Foundation, and is active in the restoration of Hitchcock's silent thriller, The Lodger). Celluloid Man was filmed in both 16mm and 35mm, with a 35mm print, by 11 volunteer DPs (all from the Institute), using a variety of different color and black-and-white Kodak stocks. The picture has a solid, consistent, rich-hued look.
When Nair retired in 1991, he and his wife moved back to Kerala, but following her death the archivist returned to Pune, discovering that without his presence and care, the facility had badly deteriorated and the films had not been stored at proper temperatures for years. Nair now lives in a room directly next to the film building, where some of Dungarpur's interviews take place. Nair received the Satyajit Ray Memorial Award in 2008 (Scorsese has talked of seeing and being deeply influenced by the Ray trilogy which he first viewed at the Carnegie Cinema next to Carnegie Hall in the late 50s.) Nair at 79—the same age as Jonas Mekas—appears in good health and his mind is keenly attuned. He is saddened by his government's neglect of a life's work, and both he and Dungarpur lament the film world's migration to digital.
Dungarpur works hard to keep his documentary from turning into a memorial service for an era, and mostly he succeeds. A dozen contemporary filmmakers including Shyam Benegal and Krzysztof Zanussi as well as actors Jaya Bachchan and Saira Banu, offer warm, effusive tributes to Nair. A broad selection of clips representing a variety of genres and moods are smoothly integrated through the long running time. We watch the archivist demonstrate his encyclopedic knowledge of scenes, by reel; Nair can open a film can and point to exactly where on the reel a scene can be found. Nair also pioneered a series of censored scenes, which were compilations of cuts made by India's government taken from imported movies, which the archivist regularly screened for students and working filmmakers. This action probably didn't endear him to local authorities, which may be a reason the government decided to let his collection deteriorate when Nair moved out, and why Dungarpur had problems just getting permission to interview Nair.
In a final, ironic footnote, Dungarpur has reported that even his meticulously restored print of Kalpana, done in Italy, is still waiting to clear Indian customs so it can be reissued in its country of origin.
Celluloid Man screened as part of the festival on October 4th.
---