NYFF 2012 Critic's Choice – "Flight"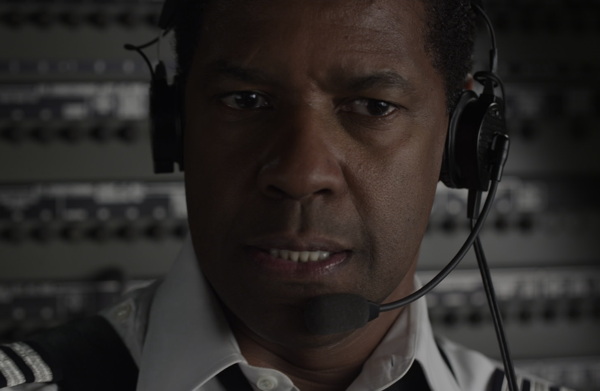 The Independent's senior film critic, Kurt Brokaw, is viewing the entire main slate (plus) of the 50th New York Film Festival, showing at Lincoln Center September 28-October 14th. Below is one of several critic's choices. A festival overview and complete list from 2012 is here.
Flight
(Robert Zemeckis. 2012. USA. 138 min.)
Fifty years in the dark have taught us that movies about substance abusers—drug addicts and cross-addicted chronic alcoholics—fall into four distinct and well-defined categories:
We've watched highly memorable films and docs in which the untreated addict dies: Leaving Las Vegas, Let's Get Lost, The Bridge, Under the Volcano, The Connection, The Rose, A Scanner Darkly, Lou Reed's Berlin, the recent Oslo, August 3lst are vivid examples, though none were honored with an NYFF screening.
Second have been films in which the protagonist goes on drinking and drugging: the gutter drunks in On the Bowery, Tyrannosaur, Jack Nicholson in Ironweed, Lee Remick's wife and mother in Days of Wine and Roses, Leslie Manville in Another Year, Alison Steadman in Abigail's Party, Gerard Philipe in The Proud Ones, maybe Tilda Swinton in Julia. NYFF showed one, Mike Leigh's Another Year (2010).
Third are pictures in which the drinker finds recovery—however brief and tentative—through the support of a loved one or close friend: D.W. Griffith's 1931 The Struggle leads a long parade that includes The Lost Weekend, Smash-Up: The Story of A Woman, The Country Girl, Come Fill The Cup, Man With The Golden Arm, Bottom of the Bottle, The Verdict, Finding Amanda, and Eden along with Will Farrell in the recent adaptation of Raymond Carver's Everything Must Go. NYFF passed on them all.
Finally, there are movies that posit a path to recovery through 12-step programs or institutions (rehabs, after-care facilities, therapists, prisons)—including Jack Lemmon's husband and father in Days of Wine and Roses, then there's Crazy Heart, Smashed, Hit So Hard, Drunks, 28 Days, Changing Lanes, When a Man Loves A Woman, Clean and Sober, I'll Cry Tomorrow, Come Back Little Sheba, Something To Live For, Voice in the Mirror, My Name is Bill W, When Love Is Not Enough, and the ferocious doc, God Bless Ozzy Osbourne. Again, none of these were chosen by NYFF.
Thus it's with anticipation and curiosity that one comes to this fest's closing night attraction, the final tribute to Richard Pena's 25-year tenure as program director, a big-studio movie-movie (Paramount) shrouded in almost total secrecy prior to its premiere. Robert Zemeckis's cagey, clear-eyed Flight focuses laser intensity on a commercial airline pilot—a falling down drunk and cokehead named Whip (Denzel Washington in, as they say, a career-defining performance)—who adroitly maneuvers his mechanically crippled jetliner bound for Atlanta down into an open field landing. Of 102 onboard, six passengers (including two crew members) die, but 96 walk away. Propelled by a narrative that's as unashamedly manipulative as it is keenly shrewd, Whip finds himself both a local hero and an employee facing a federal investigation into his sky-high blood level that shows he never should have climbed into the cockpit.
The core of Flight is whether this train wreck of a pilot, trapped by the drink and drugs 24/7, can maneuver, rationalize, deny, and lie his way out of his sorry life's most threatening crisis. It's his personal flight from responsibility, smothered by a fatal, progressive disease he can't control. This is a killer role and the part Washington has been working toward, ever since he played a likeable army private in A Soldier's Story (1984) and took the measure of his twisted and sociopathic African-American sergeant, played by the late and wily Adolf Caesar (a founding member of the Negro Ensemble Company and one of the 20th century's unsung stage and screen talents). With this role, Washington steps into Mr. Caesar's big shoes.
Zemeckis wastes no time establishing Whip as a hounded, divorced father who wakes up in an Orlando hotel with some gal and a monstrous hangover, starts the day with a beer and a few lines of coke, and an hour later even snorts some oxygen as he climbs into the cabin of the jet he'll try to fly through a treacherous thunderstorm. His co-pilot (Brian Geraghty in a fine supporting role) sees right away Whip is wasted, and gets worse after he makes a reassuring, jokey speech to the passengers from the front of the plane, then returns to the flight deck, slyly pouring three minis into his bottle of orange juice. As the shuddering jetliner starts its inexplicable plunge toward Atlanta, Whip takes the plane through a mind-bending upside-down series of gyrations, engineered with terrifying artistry by Michael Lantieri (Steven Spielberg's SFX wizard on Jurassic Park).
But those vodka minis are found in the plane's wreckage and grimly pile up against Whip, despite the best efforts of his union chief (Bruce Greenwood), his coldly efficient lead lawyer (Don Cheadle), and even Whip's blustering drug chemist (John Goodman, whose bizarre character seems vaguely based on Owsley Stanley, the one-time alchemist-in-residence with Ken Kesey's Merry Pranksters and members of The Grateful Dead). You know we're heading down a disastrously slippery slope when Zemeckis cranks up the soundtrack with Joe Cocker and the Stones shouting out, and Cowboy Junkies crooning a soft version of "Sweet Jane." And then Kelly Reilly turns up as Nicole, a strung-out junkie who overdoses and is taken to the same hospital where Whip is recovering from a concussion. Flight is 40 miles of bad road as these two make their way to Whip's rural farm house, and the road gets worse and worse. All the succeeding events are yours to discover, and they are, to be sure, filled not just with hard-won experience, strength and hope, but perhaps the same kind of dogged, long-term redemption that spelled O-S-C-A-R for Jeff Bridges.
It's taken 50 years, but the New York Film Festival is finally playing catch-up with America's drinking and drugging.
Flight had its world premiere on October 14th in Lincoln Center and will open widely November 2nd.
---