ITVFest 2015: A Dose of New Hollywood in Vermont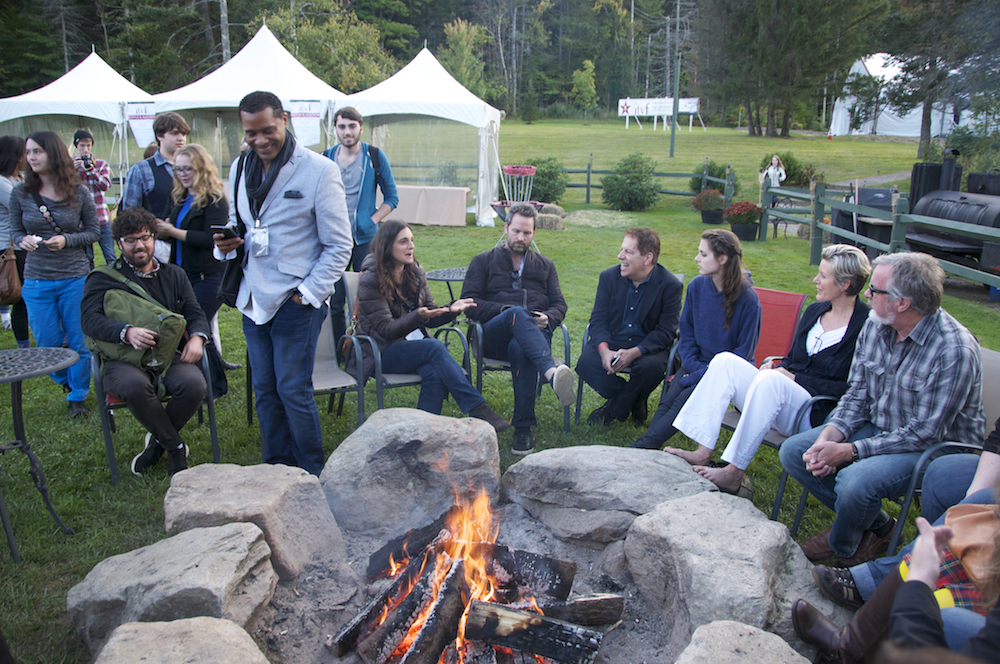 David Pierotti sips apple cider and sits around a fire with leaders of Internet entertainment.
I'm sure Cannes in Spring is lovely, but Vermont in Fall is certainly not a bad locale for a film festival, which is undoubtedly part of the appeal of the Independent Television and Film Festival (ITVFest). The small town of Dover, nestled in a bucolic valley at the base of the Green Mountains has been hosting a small, but varied, swath of industry leaders, seasoned pros and amateur filmmakers since it moved here from LA in 2013.
The festival is spread out along a mile-long section of Rte. 100 and it seems like the whole town pitches in to host the hundreds of visitors. The box office is tucked in the back of a small clothes and crafts store, while the VIPs collected their passes and gift bags in the kitchen design shop next door. Two major screening tents were set up on grasses open spaces adjacent to the Dover Forge Restaurant, whose patio area become the hang-out spot for the weekend.
There are no five-star restaurants, no penthouse suites, no paparazzi and no publicists. This is rural Vermont life at its simplest and most peaceful. Ostentatious displays of wealth are frowned upon up here and if you're expecting luxury, well, it's a long drive to New York. This ethos is embedded into the DNA of the festival. Executive director Philip Gilpin said, "ITVFest takes zero submissions from publicists or studios, it is entirely merit-based. Every project goes through our selection process, whether you just walked off the stage with an Oscar, or just made your first film."
Gilpin thinks the location is a big part of the draw: "The location forces people to interact and have more conversations. The geographical barrier to coming to Dover brings people who are truly passionate about their art, their work, and the industry as a whole. You don't just have a bunch of people looking for celebrities."
But all that is precisely why the ITVFest is developing a loyal and growing following. Rob Barnett, founder and CEO of My Damn Channel, said, "I don't go to a lot of festivals. They can be boring or crowded and difficult to have quality time with people you want to meet. But everyone here decided to come to a setting where none of us are going to jump in a cab. We're kind of stuck together. I came last year and within a day I met people I really wanted to work with. And decided I would come back."
The other major reason why ITVFest is becoming a major attraction for the independent and aspiring filmmaker is the priority it gives the Internet. ITVFest has been including web series for years and has been at the forefront of emphasizing the Internet's potential as a medium for creative storytelling. According to Gilpin, the festival anticipated how the lines between television and the web would slowly blur, "ITVFest saw this coming 10 years ago. It was the first festival to combine television and web content."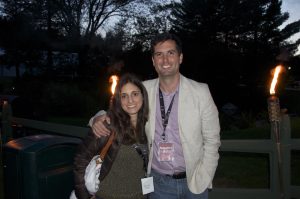 Whereas Gilpin is speaking of the supply of web content, Barnett also saw the potential of the web from the perspective of demand. He thought that people would eventually rebel against paying upwards of $200 a month. At first he and others just tried to aggregate as much content as possible. But Barnett shifted course, "instead of making and offering the largest amount of shit, how about the smallest amount of great stuff and so we focused on originals and building a brand that stood for quality," he said.
Barnett may have been early to the party, but the big guys have seen the light and flocked to Vermont this year. Like scouts at a college football game, representatives from HBO, Starz, CBS Interactive and Warner Brothers attended. Gilpin believes that "what happens when people come here and watch the content is they get shocked that what they're seeing is better than what they are watching most nights on TV. A lot of these projects are screen-ready."
Producing web series and shorts offer first-time filmmakers a far more attainable creative outlet than a full-length feature. The web is where people with more ideas than money go. And it's liberated a generation of talent. ITVFest has both been a witness and a cheerleader for this ongoing revolution. Gilpin believes the Internet "has also opened up all kinds of avenues for filmmakers to get creative where they don't have to follow the old rules anymore."
NewEnglandFilm.com founder (and the board president of Independent Media Publications, the nonprofit that oversees The Independent) said she especially liked the concept of the storylabs and CBS Interactive workshops. "Out of 21 teams, three were chosen for participation. The teams pitched their web series to the panelists on Saturday, and then had to revise, rework and polish those pitches for another round on Sunday," she explained. The teams were asked how they would support many seasons and how a studio or network could monetize the show. "Those are the types of questions that might help the producers hone their pitches," said Meek.
Filmmakers like Brett Elam and Josh Logan, who, along with their producing partner, Jonathan Broeker, created Old Town, a comedy pilot that screened at the festival. About ITVFest, Logan said, "There are so many festivals but this is one of the only ones that give independent people making television and web content a good shot at being seen." Living in Los Angeles, both Elam and Logan grew tired of the traditional way of breaking into the business. Frustrated by endless auditions, Elam realized, "I can just make my own show and do the kind of work I want to do. But it is hard to get people to see it. ITVFest gives me a way to get it seen." Broeker chimed in, "it's really this beautiful opportunity for filmmakers at this level. A lot of people turn to pilots because it's a great way to get your calling card out there."
Of course, this new freedom for people to realize their creative vision, regardless of their location, connections or financial wherewithal has predictably created a glut of content. How can anyone, viewer or industry executive, sort through all of it to find the quality? That's the role the ITVFest festival and upcoming ITV Network, has filled. ITVFest has become something of a tastemaker in the web and television area. Elam said "I've talked to agents in Hollywood who said 'You're in ITVFest? Ok, we'll take a look at it.' They didn't talk to us at all before."
But once a year is not enough, hence the plan for ITV Network. Gilpin said, "There is an entire universe being created between cat videos on YouTube and Game of Thrones. I am confident that ITV Network is going to be the best filter for independent web content. We're going to solve that problem."
Stay tuned for that, until then it's Cannes, Sundance, and now, Vermont.
---
---
Regions: Vermont