DOC NYC 2015: Critic's Picks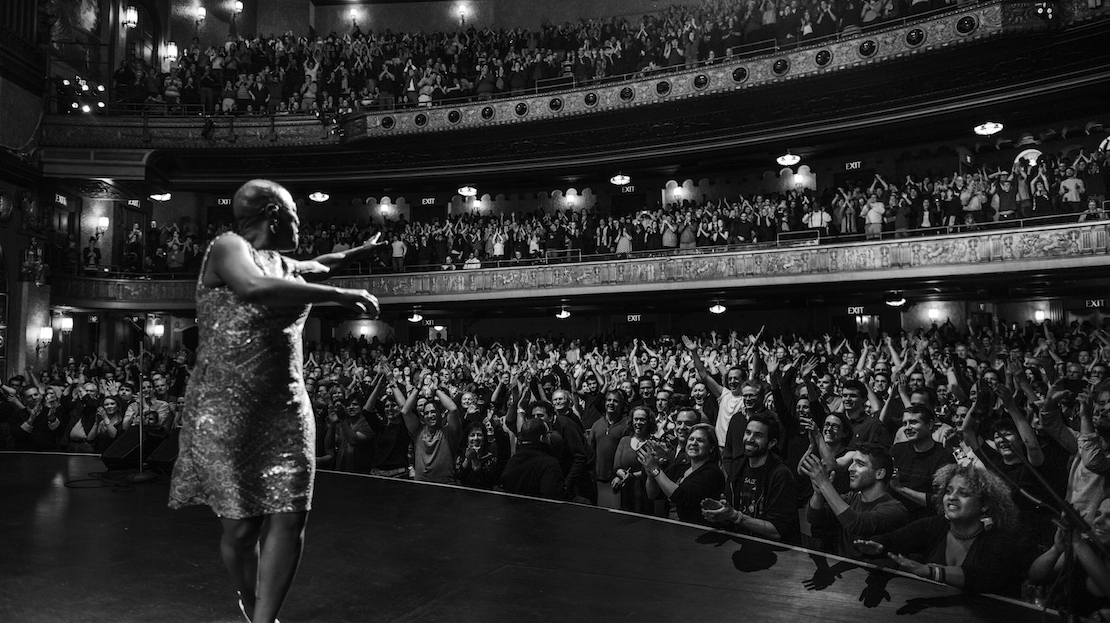 The largest all-documentary festival in the United States gets the Brokaw treatment.
Senior film critic Kurt Brokaw samples DOC NYC, America's largest documentary festival running November 12-19, 2015, and selects his favorites.
Miss Sharon Jones
(Barbara Kopple. 2015. USA. 93 min.)
If ever a filmmaker worked a lifetime earning an opening night slot at Manhattan's mammoth doc fest (DOC NYC's sixth edition includes 104 features and 56 shorts), it's Barbara Kopple. Starting nearly a half century ago with the Maysles brothers (Kopple carried David's quarter-inch tapes and Albert's film magazines working on Gimme Shelter and Salesman), this workhorse producer/director has tackled volatile subjects (a coal miner's strike in Kentucky, a meatpacking strike in Minnesota) that would frustrate most helmers. Both those films, Harlan County USA (1976) and American Dream (1980) won Kopple Oscars for best documentary.
Sharon Jones, the soul singer, may have been Kopple's greatest challenge. Jones was a North Augusta, South Carolina native who migrated to Brooklyn and worked as a corrections officer, singing nights in a wedding band until she was 40. In 2000 Jones formed a traditional, loyal-to-the-bone soul/funk backup band with a heavy horn section, The Dap Tones. When one major label exec summarized the singer as "too black, too fat, too short and too old," she started recording with her band in its Brooklyn home studio. She toured tirelessly, honing a positive, high-energy stage persona that was encouraged by the late James Brown (whose greeting to her, "God bless you, daughter" became a lifetime incentive) and may owe something to the considerably older Chicago blues woman, Koko Taylor (1928-2009), a similar stage powerhouse.
Miss Sharon Jones has barely begun when Kopple reveals bad news: Jones has stage two pancreatic cancer (she also gets a diagnosis of stage one bile duct cancer), and will need to undergo surgery and chemotherapy. It's a stunner, both for her and us, and it's when Kopple's indelible editing artistry kicks in as never before. The director elects to steer her film journey through Jones' medical crises in minute detail, and it's not a happy time. Kopple cross-cuts dozens of moments of doubt, trial, and pain with Jones' earlier nights and recording sessions—and sure enough, we begin to take on the singer's faith and determination that she will be bent but not broken. Unconsciously—then consciously—we start seriously rooting for this woman. What we're watching is a master class in the art of editing emotional urgency (both positive and negative, churned together), and it sets up what will become three triumphant scenes, each among the electrifying sequences in any music doc you're witnessed:
The first takes place in a tiny Queens church, where Jones, bald and weakened by the chemo, has come to worship. She's asked if she's up for delivering a rendition of "His Eye Is On The Sparrow," and the church's organist and drummer are both keenly poised to support some soul-lifting. And so Jones delivers, first with vocal tremors of experimentation and with a body that's largely been stationary. But the congregation and musicians lean in, and the support comes. Kopple lets this sequence ride, and it builds and builds and builds, verse after chorus after call-and-response, into a tumult of passion and ecstasy. This will surely be your first four-handkerchief version of the 1905 gospel hymn.
From here on, the picture is on an ascendant arc that's targeted toward Jones' concert in Manhattan's Beacon Theater in February 2014. This has a big, crystal-clear dynamism that will remind you of The Rolling Stones' Shine A Light concert doc, which was also shot at the Beacon in 2006, directed by Martin Scorsese with DP Robert Richardson heading the camera crews. Maybe Kopple's lighting cameramen (Gary Griffin, Tony Hardmon, Kyle Kibbe) took a close look at how Richardson lit the Beacon, because their night looks equally vivid. Jones hits the stage chugging along like a hell-bound locomotive, and this, too, turns into a victory lap for the indefatigable soul diva. Her cancer surgeon is there, cheering her on, too.
You're thinking Kopple can't top this, but watch: Earlier this year Jones returned to her hometown roots in Augusta, with a sold-out concert at the Bell auditorium. Jones makes it a benefit for University hospital's Smart Heart Fund, and both the vocalist and her Dap Kings are looking and sounding sharp as all get-out. It's another win-win in a movie that's bursting with them.
Miss Sharon Jones has dual showings at 7 pm and 7:30 pm Thursday, Nov. 12th at the School of Visual Arts (SVA) Theater.
Bernice
(Kristina Sorge. 2015. USA. 30 min.)
Your first glimpses of Bernice Steinbaum, one of Manhattan and Miami's most fondly remembered art gallery owners, will remind you of Iris Apfel, the self-described "geriatric starlet" of her own recent feature biopic. Steinbaum's extravagant, fabulist wardrobe seems at odds with a lady whose 40-year career was singularly dedicated to finding and exhibiting female artists of color, largely marginalized (or ignored) in New York's 20th century art world, which Steinbaum laments as impossibly Eurocentric and predominantly male.
"Artists make magic, and the dealer at best gets to stand in the room where the potions are mixed," says Steinbaum, whose curating was focused "50 percent on female artisans and 40 percent on artists of color." One universally known work she championed was "Tar Beach," Faith Ringgold's luminous "story quilt" and children's book (published in 1991) set in a busy, thriving world of superbly imagined Harlem rooftops.
This brisk, beautifully fashioned first work, Bernice—written/produced/directed by Kristina Sorge—is a walk-through and commentary on the creations of Hung Liu, Maria Magdalena Campos Pons, Troy Abbott, Enrique Gomez de Molina, Edouard Duval Carne, Pavel Acosta, Grace Glueck, Amalia Mesa Bains, and Fabian Pena. Bird and animal sculptures, Cuban ancestry, flamboyant costumes, and a decades-long search for an artist's imprisoned Chinese father are among the subjects briefly shown. Bernice has the same palpable sense of discovery as Wendy Keys' endlessly inventive To Inform and Delight, her 2008 exploration of the work of Milton Glaser.
Cindy Sherman: "Untitled Film Stills"
(Douglas Sloan. 2014. USA. 4 min.)
Hands-down the perfect short subject to precede Kent Jones' Hitchcock/Truffaut. Alas, they're being shown seven hours and two theaters apart from each other on November 14…but this critique can sequence them properly.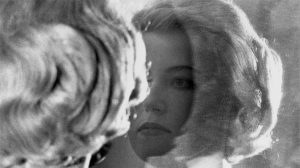 In Fall 2014, 21 of Sherman's untitled film stills sold at auction for over six and one half million dollars. Since that's surely more than the combined budgets of all 53 shorts curated into this festival, Sherman's precise and streamlined four-minute voice-over analysis in Cindy Sherman: "Untitled Film Stills" merits your closest attention.
Retreating into her bedroom and playing dress-up as a kid was always fun, she tells us. She likes trying on a fake animal nose and posing her parrot. While some of her photographs involve actual noir-ish settings (like the train station in Flagstaff, Arizona, of all places) more are set in dark motel bedrooms or the unremarkable lobby of her building. "When I moved to New York, I had to develop a street persona," she says, looking that moment like a little-girl-lost Marilyn Monroe going to her babysitting job in Don't Bother to Knock. In her carefully costumed projections, Sherman strives to capture not a reactive expression but rather "the look between reactions."
While she's deft with Monroe and Elizabeth Taylor imagery, Sherman has always been partial to European actresses of the 40s and 50s (Anna Magnani, Ingrid Bergman, Nadia Gray, Monica Vitti), "because they looked more blank—they didn't look like stars." She eschews "art theory" and strives for a mass production look so "they'd look like movie stills and you'd think, 'maybe I saw that movie.'"
Watching her flip through contact sheets, we realize editing is crucial. "I recognize myself in shots, so I edit, edit, edit…then finally I see the one that looks like someone else." Heady stuff indeed, and director Sloan shrewdly builds in Todd Rundgren's "I Went To The Mirror" as the rug under Sherman's VO.
This is how you build a seven million dollar payday. Got it?
Bernice and Cindy Sherman: "Untitled Film Stills" show as part of the shorts series Expressions on Sat. Nov. 14 at 12 pm at the IFC theaters.
Hitchcock/Truffaut
(Kent Jones. 2015. USA. 80 min.)
There are film books, and there are film books.
A first edition of Rizzoli's 1990 Untitled Film Stills, signed by Cindy Sherman, is currently being offered on abebooks.com for $2,359. The book of 69 black and white photos was assembled from 1977-80 when Sherman was in her early 20s.
A first edition of Simon and Schuster's 1967 Hitchcock/Truffaut, signed by Alfred Hitchcock to his personal secretary (and including his characteristic profile drawing of himself) is currently being offered on abebooks.com for $4,850. A first edition signed by its author, Francois Truffaut, has an offering price of $1,250. So depending on how you look at it, Sherman's book is more collectible than Truffaut's, unless you weigh in the Hitchcock inscription/drawing/signature edition, which trumps both the Truffaut and the Sherman.
Kent Jones' illuminating and often thrilling interpretation of the week-long conversations in 1962 between the British auteur and his much younger French director/admirer was given a public sneak preview in New York on October 23rd. When over 270 people in attendance at the Walter Reade Theater were asked if they owned a copy of Truffaut's book, roughly 90 percent of the audience raised their hands.
Truffaut was 30 and had completed three films at the time of their talks in 1962; Hitchcock was editing The Birds, his 48th feature-length film. Truffaut's purpose was simple: "American and European critics made Hitchcock pay for his commercial success by reviewing his work with condescension, and by belittling each new film." He chose to position his subject this way: "I suggest that Hitchcock belongs—and why classify him at all?—among such artists of anxiety as Kafka, Dostoyevsky and Poe."
As Hitchcock/Truffaut's director, Kent Jones is also director of the world's most closely watched film festival since 2012. He occupies a pivotal position in world cinema today. Like his predecessors, Richard Pena and Richard Roud, Jones is a scholarly writer; his erudite essays appear often in Film Comment magazine, which was founded the same year as Truffaut's conversations with Hitchcock (and the year before the first New York Film Festival).
But unlike Pena and Roud, Jones is a filmmaker of increasing importance, including as director of a 2007 doc on Val Lewton (Val Lewton: The Man In the Shadows) produced and narrated by Martin Scorsese, and a co-screenwriter on Jimmy P., directed by Arnaud Desplechin and starring Benicio Del Toro and Mathieu Amalric; the latter was a main slate selection at the 2014 New York Film Festival. Jones frequently leads Q&As with stars and directors. The man wears, as they say, a lot of hats.
For that matter, so does Jones' major producer, Charles Cohen, whose Cohen Media Group is the distributor of Hitchcock/Truffaut. Cohen exemplifies a new breed of film executive who both produces and distributes pictures—Frozen River, Timbuktu (reviewed here), Outside the Law, and Last of the Unjust are Cohen releases. Also, as president and CEO of Cohen Brothers Realty Corp., Cohen recent bought the four-screen Quad Cinemas in downtown Manhattan, where (not unlike Quentin Tarantino in Los Angeles who bought and runs the Beverly Theater) he can show the films he's made as well as all the other films he loves, night and day. You can imagine Cohen planning a Hitchcock fest right now, with daily insertions of Jones' new doc.
The knowledge imparted in Hitchcock/Truffaut derives from the notations and interpretations by Jones and his co-writer, Serge Toubiana (former director of the Cinémathèque française), gleaned from 27 hours of original recordings. Their narrative interweaves a slew of clips from Hitchcock films and is well-spoken by Bob Balaban, who acted with Truffaut in 1977's Close Encounters of the Third Kind. Additional input is provided by an all-male heavyweight contingent of directors—Anderson, Assayas, Bogdanovich, Desplechin, Fincher, Gray, Kurosawa, Linklater, Scorsese and Schrader. (The one female who seems to have had an up-close involvement is DP Lisa Rinzler, who lensed the New York interviews). It's strictly a guy thing of reacting to Jones' goal of "wanting the viewer to have the visceral revelation of what cinema is, in all its most powerful beauty."
The documentary's take-away impact, of course, comes from all this input layered onto Hitchcock's cinematic moments forever imprinted in our memory—Bergman and Grant in a screen-filling close-up, kissing repeatedly while walking in Notorious ("The public was being given the great privilege of embracing Cary Grant and Ingrid Bergman together," says Hitchcock. "It was a kind of temporary menage a trois."); the discovery of the killer in The Wrong Man ("We showed Henry Fonda murmuring a prayer in front of a holy picture, and from him we dissolved to the real culprit and superimposed his face over Fonda's"); Tippi Hedren as Melanie in The Birds and her genuine expressions of terror ("What I wanted to get in that attack is as if the birds were telling Melanie, 'Now, we've got you where we want you. Here we come. We don't have to scream in triumph or in anger. This is going to be a silent murder.'") Brrrr.
Jones' gives pride of place to extended scenes and detailed commentary on two Hitchcock classics, Vertigo and Psycho. Hitchcock explains the erotic dream imagery of Vertigo: "Cinematically, all of [James] Stewart's efforts to recreate the dead woman are shown in such a way that he seems to be trying to undress her, instead of the other way around. What I liked best is when the girl [Kim Novak] came back after having had her hair dyed blond. Stewart is disappointed because she hasn't put her hair up in a bun. What this really means is that the girl has almost stripped, but she still won't take her knickers off. When he insists, she says, 'All right!' and goes into the bathroom while he waits outside. What Stewart is really waiting for is for the woman to emerge totally naked this time, and ready for love." (Jones noted in an October 23rd Q&A that Stewart was physically aroused shooting scenes with Novak.)
The director leaves the detailing of Janet Leigh's 40 on-screen minutes in Psycho to Martin Scorsese. This is a supreme deconstruct, moment by moment: "The more we go into the details of the girl's journey, the more the audience becomes absorbed in her flight," comments Hitchcock. Leigh's interlude in a Phoenix hotel room at 2:43 pm with John Gavin, the action of the bank manager setting up the availability of the $40,000 cash she steals, Leigh's exact position behind the wheel of her car, the looming face of the inquiring police officer in those huge sunglasses, the meet-up with polite, pasty Norman (Anthony Perkins) at the Bates motel, Leigh's cut-by-cut, second-by-second killing in the shower.
"You turn the viewer in one direction, and then in another, you keep him as far as possible from what's actually going to happen…it's rather unusual to kill the star in the first third of the film," says Hitchcock, drily understating how distressing her death felt the first time we viewed it in 1960, as it forced our attention onto the wily Norman and his unseen "mother." Like Kopple's editing in Miss Sharon Jones, Hitchcock and Scorsese give us a master class in "the visceral revelation of what cinema is."
In that Q&A at the Walter Reade, Noah Baumbach, who directed the NYFF-chosen doc, De Palma (reviewed here), ventured his opinion to Jones that Brian De Palma considers himself the modern day successor to Hitchcock because "only his films have the perversity of Hitchcock." This may indeed be true, and thus De Palma—the one essential crime/noir director not included in Jones' formidable lineup—becomes the odd man out in Hitchcock/Truffaut, the guy with his own bag of cinematic secrets.
Hitchcock/Truffaut shows Sat. Nov. 14 at 6:45 pm at the Bow-Tie Cinemas.
Lenny and the Rat
(Jason Hutt. 2015. USA. 8 min.)
Who needs Hitchcock if you live in shock-and-awe Manhattan? You're walking the city, you turn the corner expecting the usual boring block of Chase banks and Duane Reades, and here's this humongous, inflated 20-foot gray monster sitting at the curb, reared up on its hind legs, teeth bared, poised to strike. Hey, it's Scabby the rat!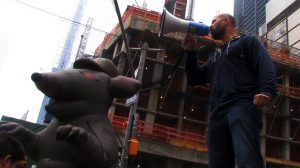 The rat has been appearing daily at construction sites all over New York City for decades, a declaration of union protest against work being performed by non-union workers. The courts have ruled that Scabby (who's not referenced by his common name in this short) is a legitimate form of symbolic speech and thus is protected by the First Amendment. Jason Hutt's smoothly fashioned doc, Lenny and the Rat, gives you a-day-in-the-life of this nightmare creature in a mere eight minutes.
First stop for the rat at 6 am is 126 Water Street, where we watch its inflation by Lenny Anselmo, its handler and organizer for Laborers' Local 79. Anselmo appears a stand-up guy, a reasonable and articulate laborer like his dad who "went to work at 5:15 am and came home covered with dust." Anselmo's message is that non-union employees don't work safe and aren't paid the wages they deserve. The rat is labor's not-so-subtle way of nudging developers, contractors, and landlords into doing the right thing.
Other members of Local 79, Local 1 and Local 46 join Anselmo and his rat at 99 Washington Street (9 am) and 133 Greenwich Street (10:30 am). They have a busy day because there's always a building going up the wrong way. Children stare in wonder. Flyers are handed out. The music score by Mark Orton—a quiet, almost atonal keyboard purr—perfectly complements this gem of sinister cinema.
Lenny and the Rat shows as part of the shorts program Concrete Kingdom, Sunday, Nov. 15 at 9:30 pm at SVA.
Class Divide
(Marc Levin. 2015. USA. 74 min.)
Halfway into this penetrating look at the transformation of yet another New York neighborhood, Scabby the Rat makes a cameo appearance in front of Google's headquarters at Ninth Avenue and 15th Street. We don't know the cause of this labor protest, but it's common enough in West Chelsea where new is replacing old with blinding, bewildering speed.
Levin's documentary, Class Divide, is the most thoughtful and heartbreaking chronicle of how Mayor Bill de Blasio's "Tale of Two Cities" plays out in real time. The mayor's campaign pledged to reduce the "inequality gap" between rich and poor that Charles Dickens' 1859 novel vividly dramatized, and that most New Yorkers understand because they see it every day. Class Divide is a stormy treatise on how the gap is widening, not closing.
We're first introduced to some of the 1,028 residents of the Chelsea-Elliot Houses, two 21-story public housing projects on Ninth Avenue between West 25th and West 26th Streets, built in 1964. They're working class poor, and the teens in residence aren't shy about stating they're "living under a cloud of darkness, across the street from a cloud of happiness." Some of the city's 500,000 undocumented immigrants live here. Unemployment is high, life is grim: Sometimes "there's no hot water, no cold water, no food," says one teen. "I feel second class, or third class," adds another. "It's not racism, it's classism," notes a third. One young man has been shot twice.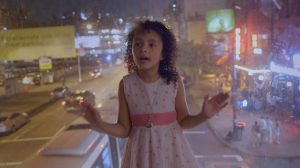 Their neighbors-in-name-only across the street are l,240 students at Avenues: The World School, a $60 million K-12 school in which annual tuition starts at $40,000. "I can't name five people who make more than $40,000 in this neighborhood," comments one projects teen, expressing the mixed envy, jealousy, longing and resentment that these black and Hispanic youth feel toward their mostly white counterparts.
In scene after scene, Class Divide verifies that the neighborhood that was once familiar and reasonably priced for Chelsea-Elliot residents is fast slipping away. What's going up in its place are four-story townhouses starting at $10.5 million, plus luxury high-rises with individual swimming pools and car elevators that lift your Mercedes to your door. Levin's doc bristles with statistics, and the scariest ones are that 40 percent of Chelsea's low-income housing is gone, and 40 percent of the purchasers of multi-million dollar properties are foreign-based or "anonymous" investors with LLC after their corporate monikers. "We're looking at Hong Kong on the Hudson," sighs one government administrator.
The one bone developers have tossed to the working class and the Mayor's inequality platform has gotten mixed reviews: a small number of below-market rentals in top-of-the-line new buildings (in exchange for 20 percent tax credits). "We've gone from Appalachia to Park Avenue in five minutes," muses another community resource person. This "split living" has quickly been universally dubbed the "the poor doors" of white-glove buildings.
One Avenues' student that Levin's cameras linger on at length is 16-year-old Luc Hawkins. He tells us his family lives high above the "poor door" residents in his building, and seems uncomfortable with the dynamics. "I know I'm seen as white, rich, preppy, and I have more reserves than other kids," he says quietly. "I'm nervous because at $45k, my school can't be available to everyone. (To a fortunate few, it is; 45 Avenues' students are on full scholarships, while l07 receive some financial aid.) It comes as a terrible shock when Class Divide announces Hawkins was Avenue's first suicide in 2014.
In its 74 select minutes, Levin's doc manages to explore the mediating cultural influences between the polarized worlds of Avenues and Chelsea-Elliot. Foremost as a common meeting ground is the 22-block High Line, completed last year, replacing historic elevated railroad tracks, and already among the city's top ten tourist attractions.
Next is the Hudson Guild Community Center, a vital repository of community services. Third is probably a tie between Community Board 4 and Scabby the Rat, each in its way a useful overseer of the hurly-burly. And last—perhaps potentially the most important cultural shift being delicately seeded—are the brisk, pioneering gestures toward friendship offered by Yasmin, a perceptive and articulate Avenues student, whose family is Turkish. She's started the process of reaching out to project kids her age, producing an audio and video scrapbook titled "1500 steps" (roughly the distance between the project and Avenue's doors).
Avenues looks like the ultimate commercial triumph for its co-founder and chairman, Christopher Whittle. He's a wealthy entrepreneur best known for a lifetime of launching one venture after another that put advertising in distinct venues from doctors' offices to commercially-sponsored short-form books aimed at business travelers. Whittle achieved fame and condemnation for his Channel One, which introduced commercially-sponsored news programs into middle and upper-school homerooms (the program has always been banned in New York and California), and his ill-advised Edison Project, which proposed a kind of marketer takeover of failing slum schools (which was never approved by parents' groups in New York).
Whittle was probably a self-made millionaire long before he dumped these operations and corralled himself a townhouse in the East 90s (his daughters attended the elite Nightingale school). The Avenues property was a former warehouse, and before that a turkey slaughterhouse, before being bought and converted to a K-12 school that's bilingual (Mandarin or Spanish) through lower school years.
Avenues is the one private school in Manhattan that runs a full-scale, big-media ad campaign (New York Times, Wall Street Journal) obviously targeted to international business parents and newly arriving families from abroad. (Whittle has personally pitched the school in Beijing.) For kids who may not be smart enough and parents who may not be connected enough to qualify for Manhattan's first-tier coed and single-sex schools, Avenues may be a desirable choice—what college searches call a safety school. Avenues now gives tours to Chelsea-Elliot residents and admitted its first child from that project this year.
A closing, memorable shot in Levin's keenly objective doc shows the High Line sign displaying a classic legend by Plutarch, the Greek essayist: "An imbalance between rich and poor is the oldest and most fatal ailment of all republics." That may be a better, clearer warning than the Mayor's tale of two cites. And maybe Plutarch's message had its effect: one of the last slides in Class Divide's end credits shows Whittle's picture next to an announcement that he's resigned.
Class Divide shows Sun., November 15th at 4:30 pm at SVA and will air on HBO on February 8, 2016.
The Surrender
(Stephen Maing. 2014. USA. 24 min.)
Laura Poitras, director of the Oscar-winning documentary on privacy activist Edward Snowden, Citizenfour (reviewed here), is back with a vengeance. Poitras is one of three producers of a taut, 24-minute summary of the tragedy of another whistleblower in The Surrender. Stephen Kim is a Yale Ph.D. who rose to prominence in the State Department as an expert on North Korea's nuclear capabilities. Kim made the mistake of his life six years ago by confiding classified information to a Fox news reporter. His devastated life and ultimate imprisonment for one violation of the Espionage Act is likely to discourage Snowden from ever returning to America to face trial for multiple violations of the same 1917 federal law.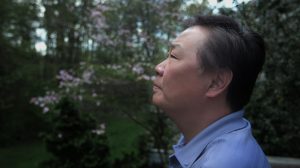 Director Stephen Maing employs the same cinematic tools that made Poitras' Citizenfour so engrossing—key Internet chat typing in white across a black screen, an ominously pulsating music score, a focus on the solitary existence and martyrdom of its subject. Like Snowden, Kim is shown as a highly sophisticated government resource who may have been childishly naive about what can happen when our government feels betrayed by one of its own. The Surrender is about Kim's last lonely days as he prepares to surrender his freedom.
The following summary is drawn from Maing's doc as well as producer Peter Maass' meticulously detailed compilation of events leading to Kim's downfall:
In summer, 2009, North Korea set off a nuclear bomb. Fox reporter James Rosen phoned Kim for comment. Rosen and Kim talked. That same afternoon, Rosen posted a story on Fox news website that United Nations sanctions might result in a new nuclear test. Five years later, Kim would plead guilty to one count of violating the Espionage Act. His marriage and life savings were gone. His parents sold their retirement house in South Korea to help pay legal bills. Kim seriously considered suicide. In a plea bargain with prosecutors to avoid a trial that might have sent him to prison for decades, Kim agreed to serve 13 months in prison. When he's released next winter, he may take the one job he's been offered—selling ladies' sundries at retail.
How could all this have happened? Rosen and Kim first met through an introduction by a State Department head of public affairs. Rosen's emails to Kim have a gee-whiz, let's-put-on-a-show boyishness that duped Kim—a frustrated hardliner who felt his superiors never understood North Korea—into possibly passing on classified information. Rosen kept Kim leaking content that would help the reporter "break news ahead of my competition." Rosen, who narrowly escaped being charged himself as a co-conspirator, reeled in Kim like a fish.
So did the FBI agents who casually interrogated Kim with "non-custodial questioning." "Kim was asked questions that were, for all intents and purposes, a setup," says Abbe Lowell, the high-profile lawyer hired by Kim. Lowell quotes another old adage about fish and criminal defense lawyers: "Many lawyers have a fish mounted on their wall with a plaque saying 'If I hadn't opened my mouth, I wouldn't be hanging here today.'" (Lowell's firm eventually absorbed more than $1 million in unpaid legal fees.)
At one point in the investigation, Kim's wife walked in as six FBI agents were scouring their home and—not having a clue why they were there—offered them drinks. The FBI acquired everything including Kim and Rosen's phone records and emails, even records of the precise moments Kim accessed a North Korea intelligence report on his office computer.
As producer Maass' summary points out, the administration has determined to find leakers today before they leak: members of the intelligence community now need authorization to talk with reporters, "even if their conversations are not about sensitive matters." Maass speculates about Kim (an "off-the-rack analyst") being in prison while David Petraeus, the former CIA director and four-star general, is free—even though he allegedly handed over multiple classified documents to Paula Broadwell, his former lover and biographer. Maass believes Petraeus got a pass because "influential friends like Senators Dianne Feinstein and John McCain have taken his side."
One ironic clip in The Surrender shows Jon Stewart's comic take on the government's case. "That's it?" roars Stewart. "That's the leak they need to quash? 'North Korea to answer sanctions with more nuclear tests?' North Korea answers everything with more nuclear! They have a nuclear test based economy!"
If only it was so funny to Stephen Kim. "My reputation is gone," he slowly concludes. "I don't have any power. I don't have rights. There's no Stephen Kim… it's erased. I am not a human being. I am the property of the state."
Laura Poitras and company are back on the watchtower.
The Surrender shows as part of the shorts program "Points of View" Tues., November 17th at 5 pm at IFC.
The Clock of The Long Now
(Jimmy Goldblum. 2015. USA. 3 min.)
No one understands how fractured our attention spans are better than Opal H. Bennett, the IFC curator tasked with selecting the 56 shorts that so brilliantly inform DOC NYC. Jimmy Goldblum's dazzling demonstration of a gigantic 10,000 year clock being assembled inside a southern mountain is the shortest short—The Clock of the Long Now clocks in at exactly three minutes—but it's one of the richest and most rewarding experiences in this fest.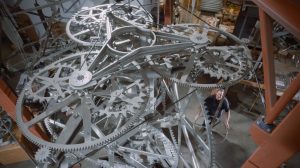 The inventor behind this "symbol of the future, just as the pyramids are a symbol of the past," is Danny Hillis, an engineer, mathematician and expert on super computers who spent four years as head of research and development at Disney. Hillis' team includes Stewart Brand (the futurist and editor of The Whole Earth Catalog); Alexander Rose (a robot engineer); Amazon founder Jeff Bezos (who's contributed $42 million as well as the site location on his property near the tiny town of Van Horn, Texas.); and avant-garde music composer Brian Eno, who named the project and has programmed the clock chimes to ring out a different melody each of 3,650,000 days.
How cool is that?
We watch the stainless steel bearings and rolling elements of this 200' high timepiece slowly turning like something out of—well, out of Kubrick's 2001: A Space Odyssey. They're synchronized to the sun's movement, and they never need lubrication. Hiller first proposed the idea to readers of Wired in 1989, and at age 60 he expects to be around to hear the clock's cuckoo ring in the next millennium. The plan is for the public to be able to climb the mountain and visit the clock.
The Long Now team is guided by the philosophy of Jonas Salk, inventor of the polio vaccine, who said, "Our greatest responsibility is to be good ancestors." Goldblum's little movie, all shiny and polished, honors that vision.
The Clock of the Long Now also shows as part of the program "Points of View" Tues., November 17th at 5 pm at IFC.
Janis: Little Girl Blue
(Amy Berg. 2015. USA. 106 min.)
The most revealing conversations in Amy Berg's rich, exhaustive dissection of the blues rock singer's torn life (1943-1970) are between Joplin and one of the most amiable and pleasant television hosts of the era, Dick Cavett. Yes, imagine, Dick Cavett. We see the two of them in a seminal clip (one of three guest shots she did on his show), and the dialogue that's the essence of Joplin's art goes like this:
Joplin: Did you ever see those mule carts?
Cavett: Yeah.
Joplin: There's a dumb mule and a long stick with a string and a carrot, and it hangs over the mule's nose, and the mule runs after it all day long, some—
Cavett: Who is the man in this, in this parable, the mule, or the person holding the carrot?
Joplin: No, the woman is the mule, chasing something that somebody's held her way. Constantly chasing her man—
Cavett: …who always eludes her.
Joplin: Well, they always hold something more than they're prepared to give.
The director knows she's found the key window into Joplin's music as well as her personal life. She cross-cuts other moments of that interview with the last seasons of Joplin's life as she's surrendering to heroin mixed with Southern Comfort (the company loved her open displays in concerts and photo seasons so much, they gifted her with a lynx coat). Cavett, frail but alert today, wryly comments on their warm relationship, teasing that "we may or may not have ended up intimate, my memory is so bad." He remembers when he asked her, privately, whether he could assume she wasn't doing heroin. "And her answer was, 'Who would care?'"
Janis: Little Girl Blue pulls together most of the key talking heads and other influences that defined Joplin's life—an older sister and brother, three members of Big Brother and the Holding Company (her first San Francisco band), as well as musicians in her Kozmic Blues Band and Full Tilt Boogie Band, various lovers and companions (The Grateful Dead's Ron "Pig Pen" McKernan; Country Joe McDonald; her darkly influential drug pal, Peggy Caserta), plus composer/actor Kris Kristofferson (whose "Me and Bobby McGee" became her biggest hit), record mogul Clive Davis and Monterey Pop filmmaker D.A. Pennebaker. Touring managers, Bob Weir and even Jerry Garcia pop up. The one vital missing figure is Elektra Records' head producer, Paul Rothchild, who masterminded Joplin's final album and honed her signature staccato stutter (which she acquired watching singer Otis Redding) into a dizzying and strangled cry.
Berg assembles all this with admirable artistic integrity—in particular, Janis' letters home, which are voiced by Chan Marshall (Cat Power), a fine choice. Only two embellishments are questionable: when the director fades the sound on Joplin's performance at Woodstock down and out (as a comment on Joplin's druggy vocal, which this writer vividly recalls halfway through an August night in 1969), and Berg's persistent use of train footage shot coming and going (probably as a metaphor for the singer's ascending and descending career). Mostly the director's editing choices are spot-on, especially letting us view anthem numbers like "Tell Mama" and "Ball and Chain" complete.
Janis craved recognition and the fame she was ill-prepared to handle almost all her short life. She went from winning a fraternity's "ugliest man on campus" contest in Texas in l962 to becoming Queen of the Blues six years later (her "Cheap Thrills" album on Columbia went gold, selling a million copies, in four days). Her only real competition as a white female rock singer was Jefferson Airplane's Grace Slick, with whom she shared stages at Monterey and Woodstock. A legion of female rock vocalists—Genya Ravan, Lydia Pense, Candy Givens, Gayle McCormick, Chi Coltrane, Bonnie Bramlett—would emerge standing on her shoulders.
Janis: Little Girl Blue shows as the DOC NYC centerpiece on Sun., Nov. 15th at 6:45 pm at SVA.
This concludes critic's choices.
---
---
Regions: New York City