Rendez-Vous with French Cinema March 3-13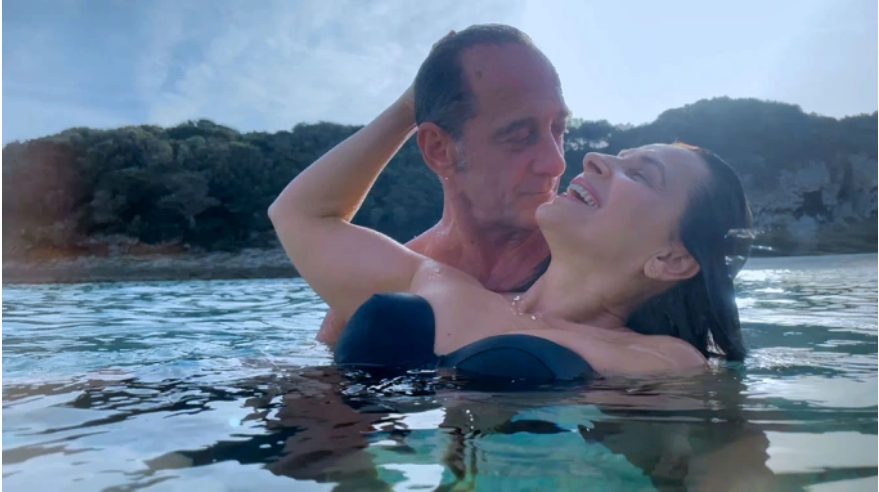 Senior Film Critic Kurt Brokaw's guide to an enchanting tour de France with 23 new films at Lincoln Center
Signs of spring are budding through New York City. Cartier just debuted the season's most welcome ad campaign, with scores of residents in all five boroughs weighing in on why they wouldn't live anywhere else. The citywide infection rate has plummeted from a perilous 22% in January to a far safer 1.3% (Feb. 25). And in Lincoln Center, the annual Rendez-Vous with French Cinema Festival is arriving with nearly two dozen sterling features, nearly half already secured to distributors, with 100% live viewings on the Walter Reade Theater's majestic screen. Hearts are aflutter.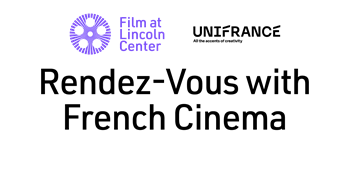 Two of France's legendary stars, Juliette Binoche and Gérard Depardieu, return in multiple new works—Binoche in Between Two Worlds and Fire and Depardieu in Robust and Lost Illusions. Top name actresses Charlotte Rampling (Everything Went Fine), Vicky Krieps (Hold Me Tight) and Valeria Bruni Tedeschi (Anaïs In Love) are anchoring pictures. Jacqueline Bisset plays the mom of two-timing Virginie Efira in Madeleine Collins. A pair of high-energy music tales are rooted in 80s French rap (Authentik) and post-punk (Magnetic Beats). There's a doc on a theater company (Guermantes) that can't perform but refuses to stop rehearsing during the pandemic.
Emotions also run high in a festival that casts a wide net to catch the French experience, especially its youth. The 13-year-old Petit Solange survives her parents' divorce and the loss of her childhood home. Teens in a countryside project adjacent to Paris put their lives on the line against economic insecurity and climate change in The Horizon, which director Emilie Carpentier will show without charge to student groups on March 10 and 11. And nothing in this Rendez-Vous can approach the chilling severity of Vincent Le Port's Bruno Reidal, Confessions of a Murderer, a cinematic diary of a killer teenager stalking his younger victim through Cantal forests in 1905.
Claire Denis will be in town to launch her opening night selection, Fire, and Mathieu Amalric is pausing acting long enough to introduce his sixth directorial outing, Hold Me Tight. And with Rendez-Vous's regard for French film noir and femme fatales, there'll be a revival of Jacques Becker's 1954 Touchez pas au grisbi (introduced by no less than Jim Jarmusch) with a world-weary Jean Gabin matching a sublime newcomer named Jeanne Moreau.
Add to all this some extra items like free talks in Lincoln Center's Munroe Film Center: Denis and Jarmusch on their landmark indie careers (March 4); Binoche and Robust's Déborah Lukumuena on career perspectives (March 5); plus a fresh French-American look at cinematography (March 7). All together now, clap hands for the fest that's been a premiere partnership between Unifrance and Film at Lincoln Center for 27 years and counting. Here are critic's choices:
Fire: Claire Denis: France: 2021: 116 minutes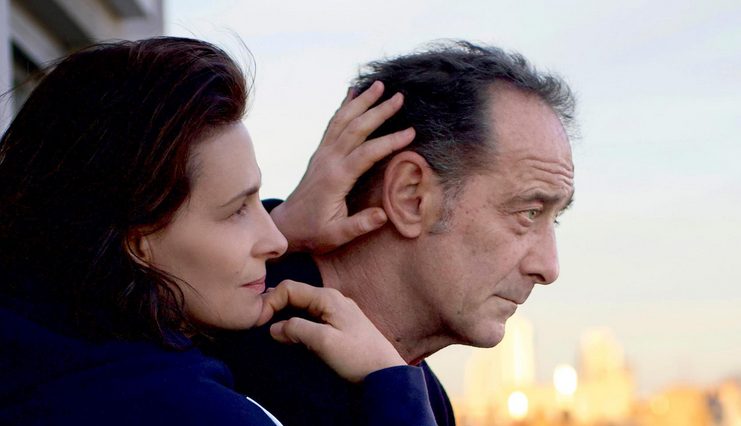 How many ways are there to win a critic's heart? At 57, Juliette Binoche knows many, and the attentive curators at Rendez-Vous keep importing her dramas (three in the last decade— Certified Copy, Clouds of Sils Maria and The Truth—have been irresistible critic's choices). Fire, shown at the recent Berlinale festival under its more ominous and accurate title, Both Sides of the Blade, won Best Director award for Denis. It's Binoche's latest triumph.
If you'd like the meaning of the Euro title clarified, imagine it reading Both Sides of the Bed. It's the most conventional French cinema trope—a woman torn by the love of two men. Heaven knows it's earned its keep helping power the careers of legendary stars like Anouk Aimée, Catherine Deneuve and Isabelle Huppert (all seen in critic's choices in The Independent.) Each actress has displayed real fire-in-the-belly holding onto or letting go of so many, many Frenchmen.
An earlier generation of French screen goddesses—like Michèle Morgan, Danielle Darrieux and Simone Signoret—had to make due with postage-stamp screens, black-and-white photography, and mordant, sentimental music scores. Binoche has Denis, and this most unpredictable of directors unleashes a firestorm of massive CinemaScope closeups, all-systems-go pacing, and a jittery Tindersticks score that will immediately infect your nervous system. Plus Denis has adroitly cast two handsome leading men, Vincent Lindon and Grégoire Colin, who not only look like they could fall under Binoche's spell but can actually match her undisguised suffering. Plus—and this is an unexpected benefit that adds its own touch of reality—Paris is masked up so you know a triangle that felt old-hat in the 1940s still feels very much of today.
Ex-rugby pro and ex-con Jean (Lindon) has settled into a decade of apparent bliss with Sara (Binoche), who hosts an NPR-like show on Radio France Internationale. On Paris streets she spots an old lover, Francoise (Colin) who was once pals with Jean back in the day. Until Sara left Francoise for Jean. Jean needs a job, so Francoise unwittingly invites Jean into partnership in a new sports agency, thus setting up a potential jealousy as old as cinema.
Denis gives passing glances to Jean's mother Nelly (a subdued Bulle Ogier) who's been caring for his mixed-race teenage son Marcus (the promising Issa Perica), But her unblinking focus is on Binoche, whose gift these days is projecting a powerful, commanding maturity…while not quite surrendering a wistful, winning vulnerability. (In addition to being in full bloom in Fire, Binoche anchors Between Two Worlds, her other showcase in the festival. There, she's a hard-as-nails author who disguises herself as a cleaning woman in order to write a chart-topping book on social inequality.)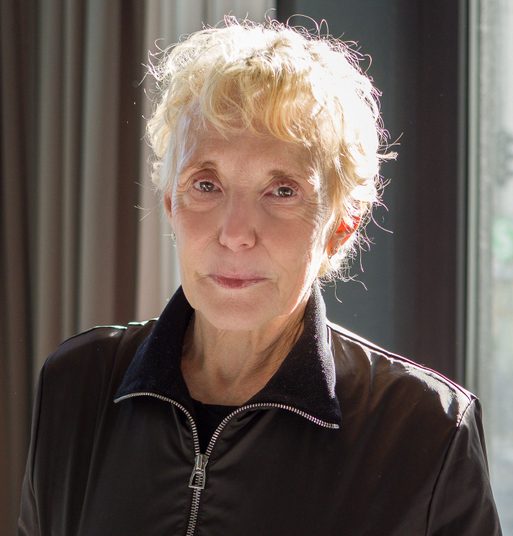 Here, Claire Denis pushes and stretches Binoche into scenes of unrequited passion and fury that would split lesser actresses in two. Except for an open sea dalliance (pictured) that introduces Sara with Jean, Denis doesn't sentimentalize either character. Their eventual suspicions and denials lead to a confrontation as painfully memorable (and loud) as the showdown between Adam Driver and Scarlett Johansson, the couple in Marriage Story, Heartbreak and lust have rarely been so palpably co-mingled in a coldly nondescript rooftop apartment. Together, director and star fan the sparks they ignited five years ago with Binoche playing a divorced mom who craved her independence over everything, in Let the Sunshine In. This is a five-alarm Fire whose poster could proclaim "Sets the Screen Ablaze with Excitement!" without blushing.
Madeleine Collins: Antoine Barraud: France: 2021: 102 minutes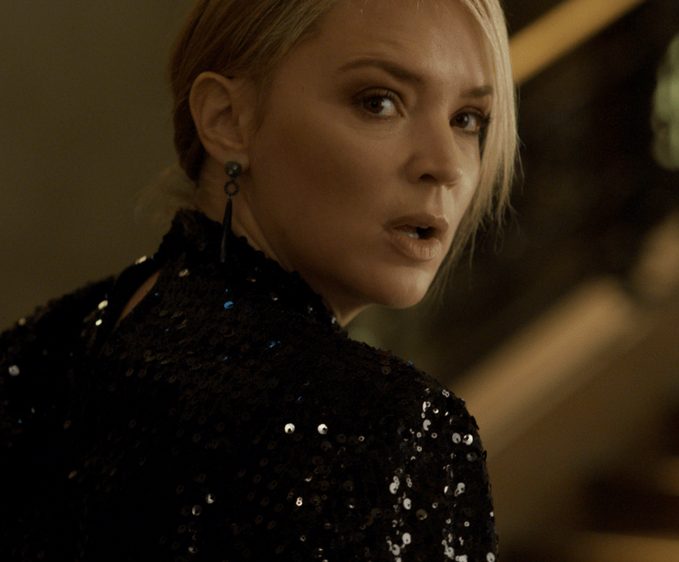 The title character in Rendez-Vous's most satisfying drama is a much-married mom, but not in any traditional sense. She's played by the Belgium-born Virginie Efira, a former television personality who the provocateur/director Paul Verhoeven has lifted into major screen roles. He  first cast Efira in Elle as a conservative banker's wife, then in Benedetta, as a ravenous nun (and again the title character) in a crazed 17th century abbess. Antoine Barraud clearly had no doubt Efira could play a translator, wife and mother leading double lives—married (as Judith) to a leading orchestra conductor (Bruno Salomone, brushed and combed) in Paris, then scooting off to Geneva every few days "on business" to become Margot and resume a loving relationship with a younger man (Quim Gutiérrez, needy and doting) and his pre-school daughter.
You needn't be a deep cinephile to recall that Kim Novak frustrated James Stewart no end playing two women, Madeleine and Judy, at different times in Alfred Hitchcock's Vertigo. But director Barraud has taken pains to point out that Novak's women were both victims who looked and dressed very differently. Judith/Margot are the same competent woman managing two lives with the instincts of a mother as well as the skill set of a corporate manager. For most of the picture Efira, now in her mid 40s, is as warm and likable in both roles as the weather girl she started out as. She has low blood pressure, or maybe it's high blood pressure, but the right meds at the right moment pull her out of dizzy spells. She sneaks evening calls to a child for tuck-in. She conceals her other life effortlessly, at first, then with growing unease, but she's always holding onto and folding in the emotional logic of her deceptions. Barraud's production design helps cocoon her; the picture's look is smooth, polished, supportive. In a lovely bow to cinematic memories, Barraud casts Jacqueline Bisset as Judith's silky mom. The one element Judith/Margot can't control is those pesky children, who increasingly chip away at mom's duplicity. She's fooling nearly everyone, but she founders trying to overcome the desperate longings of a preteen son as well as a pre-schooler.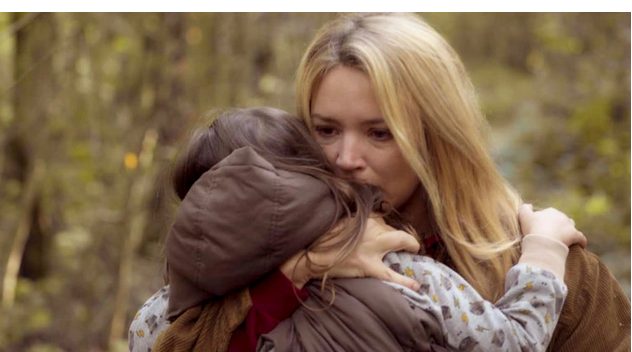 What elevates Barraud's screenplay, co-written with Héléna Klotz, into the realm of superior family dramas is a hidden-in-plain-view secret that isn't braided with Judith/Margot's lives until near the very end. It's a revelation that makes you rethink everything you've watched—why Efira's character chose a second identity, why she'll opt out for a third as her life continues. In Hitchcockian terms, the secret starts out feeling like the movie's MacGuffin (content that leads you nowhere), but it's actually why Madeleine Collins is the one you won't talk about with friends until after they've seen it. This one out-Hitchcocks the master.
Robust: Constance Meyer: France/Belgium: 2021: 95 minutes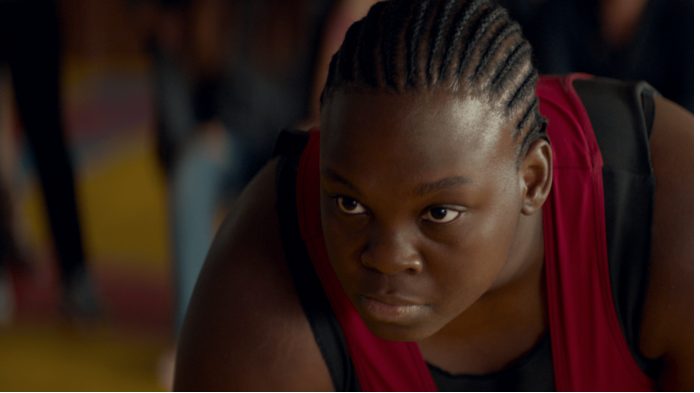 At 73, Gérard Depardieu looks anything but robust. He's been carrying far too much weight for years. Playing Georges, a French movie star not unlike himself, his breathing is labored. He's constantly snacking, talking in choppy phrases and puffy growls, murmuring that he "looks like a cow." He worries about his increased heartbeat (tachycardia) which can seize him at the most inconvenient times, like when he's upending his motorcycle or bedding a wellness expert hired to help control his cravings.
Georges can be blunt and dismissive of his entourage, coldly contemptuous of the movie world around him and the role he's about to start as an aging, defeated widower in the 1800s. Yet he retains a child's curiosity for a few people, places and things. He can stare for hours at a pair of bloated underwater creatures in his mammoth, darkened home aquarium. He's affectionate to his adoring young son (who teases him as a "greedy guts"), as well as the boy's sleepy puppy. Georges concentrates mightily on a key line in his script, rehearsing it again and again, intoning it a touch differently each time. The line carries its own weight, defining his character as being "unvanquished, timid and enslaved, like a child."
Some of us have been watching Depardieu work up on the silver screen since the 1970s, growing up with him in the dark. He's played just about everyone in the world with his brand of consummate artistry. Here he's another huge hot mess, but of late he's become our huge hot mess, and one suspects he'll stay that way until the cows come home.
In her feature film debut, co-writer and director Constance Meyer, still not that long out of NYU Tisch School of the Arts, introduces Georges to a formidable opponent, a bold conceit that works instantly. She's Aïssa (a perfectly cast Déborah Lukumuena), who's hired as Georges's personal assistant. Her job in addition to being his driver is to make his appointments, handle his calls, protect the scripts he's always misplacing, run lines with him, and remind him to take his meds. She's in top physical condition, as she works out regularly with a female wrestling team, and she's robust enough to double as Georges's personal bodyguard. When he's assaulted on a darkened street, Aïssa dusts off the bad guy fast. Georges is intrigued with her. He admires this formidably large woman who's learned to handle life's continuing challenges, just as he handles the screen's continuing challenges—but with none of his attitude.
It won't take long for you to suspect that Meyer is subtly building on the premise of Olivier Nakache and Eric Toledano's Untouchable (Intouchables), a critic's choice in the 2012 Rendez-Vous with French Cinema.
There, a white millionaire in a townhouse hired a Black ex-con layabout from Parisian projects as his driver and companion. A decade ago Intouchables became the most watched film in France and made over 400 million dollars worldwide. Skin color and class were its box office foundations. Meyer's innovative concept rests on Georges and Aïssa's not dissimilar sizes and vastly different health regimens.
The director gives both Lukumuena and Depardieu equal time on screen, cutting back and forth between Aïssa's personal life with wrestling practices plus a reluctant boyfriend, and Georges's busier life with lawyers, wardrobe fittings and fencing instructors. We come to understand that for Aïssa, her volatile employer is just another paycheck and that her next assignment, assisting a diplomat, may be far less stressful. For Georges, she's a curious, interesting novelty among an unending line of professionals, most of whom want something from him.
Their most telling scene together is a riveting centerpiece in which Georges introduces her to that gargantuan aquarium with its monstrous creatures easing their way through black waters. Meyer lets the scene play out leisurely, with Georges and Aïssa silently observing these two strange denizens of the deep, endlessly circling each other. Not a word is spoken… but the silence here speaks volumes.
This concludes critic's choices. Watch for Brokaw's picks in the 51st edition of New Directors/New Films, April 20–May 1.
---